Casting Couch #280: Robin Sanchez, Gerald Fabiani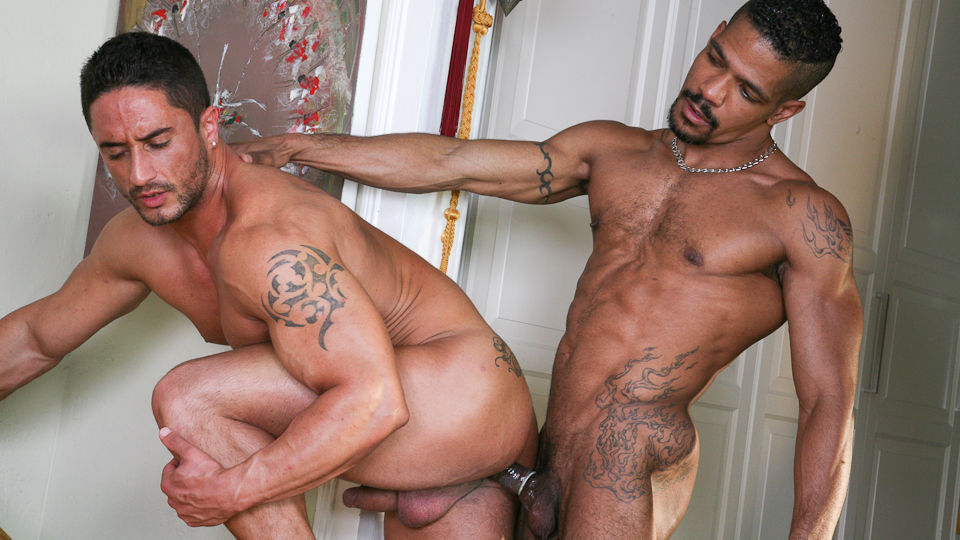 You have

10

FREE previews remaining. Join now, and get access to hundreds of exclusive, award winning videos (?)
DOWNLOADS
MP4 MEMBER'S FREE DOWNLOADS (?)
Small 960x540


(123.55 MB)

Medium 960x540


(123.55 MB)

HD 1280 x 720


(238.11 MB)

Full HD 1920 x 1080


(467.97 MB)
DESCRIPTION
The sensation of touch is an incredible thing. Each of our bodies has its own unique area that is highly sensitive to touch and arousal. Big black guy Gerald Fabiani is at home enjoying a quiet afternoon of pleasuring himself through touch. His wet tongue working its way up and over and around each finger as his other hand is exploring his ripped muscular body. A sly fox grin comes across his face as he notices his lover taking delight in watching his partner pleasure himself. Porn star Robin Sanchez is already hard as he anticipates taking over for his lovers hands with his tongue, hands and lips. He begins by feeding Gerald his fingers to suck and linger over.

Robin's fingers are quickly replaced with his rigid cock. Gerald runs his hot tongue up and down Robin's shaft and pauses on his engorged head to lap at its expansive crown. Robin moans with pleasure as he begins to feed Gerald his cock at a more rapid pace. Gerald rises so that Robin is able to take his straining black dick deep in his throat. Robin is eager to receive his lover's dark ebony cock deep in his throat. Feeling that hot black cock fill his hungry mouth and deep throat. Gerald's balls are drawing up tight against his body as the pleasure radiates from the head of his cock through the shaft and throughout his body. Feeling his hot load building quickly, Gerald mounts Robin from behind and begins to deliver a hot pounding to Robin's tight, muscular ass. Robin encourages his lover to pound him deeper and harder.

The pleasure of being penetrated deeply has Robin's cock straining to release his hot load. Gerald continues to pound and pleasure with each thrust of his hard black cock. The continues pounding has brought Robin to the brink of explosion which erupts all over his ripped abs. Gerald's rhythm is only intensified by the spasming ass muscles wrapped around his cock. Pounding away until his pleasure is delivered in an eruption of milky cum all over his lovers thighs and balls. The sensation of touch is something that we all have within ourselves, pleasure yourself today.
Comments about this scene
Please note:
Spam, or rude attacks will be immediately erased

Galleries
Gay Porn Stars
Those who liked this scene also liked