Casting Couch #320: Tony Rivera, Julio Rey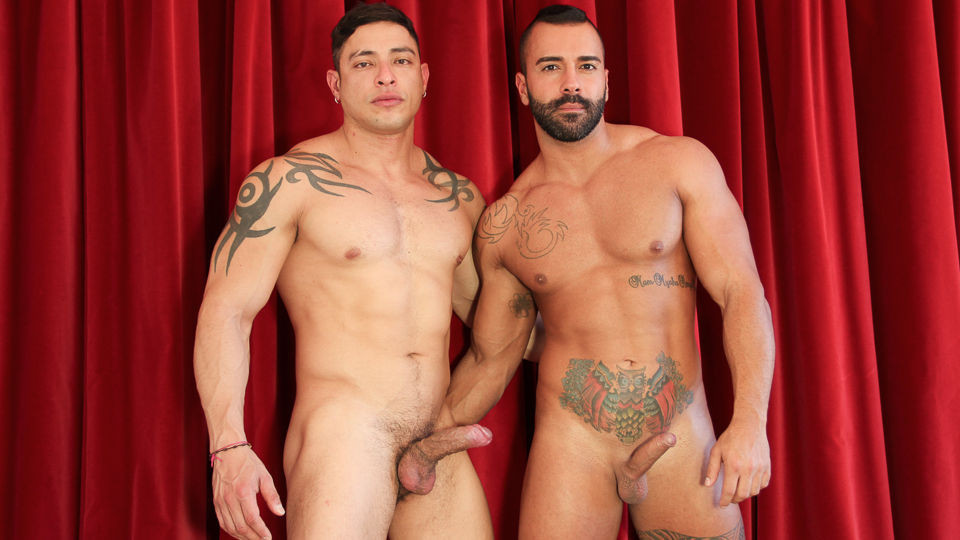 DOWNLOADS
MP4 MEMBER'S FREE DOWNLOADS (?)
Small 640x360


(62.07 MB)

Medium 960x540


(151.33 MB)

HD 1280 x 720


(292.40 MB)

Full HD 1920 x 1080


(574.85 MB)

Tony Rivera and Julio Rey have been trying to hook up for some time, today it finally happens.

As soon as Julio enters the room the juices begin flowing.

After a month of exchanging photos and fantasies the time has come to put your cock where your mouth is.

Julio now gets to taste that hot cock that has driven him crazy online.

Both men work over each other's straining hard ons with great enthusiasm.

Julio loves Toni's hot mouth on his cock and begins to fuck him with it, but Tony is poised with just as much eagerness and devours Julio's cock.

With his cock super sized and fully lubed, Julio gets to work on Toni's hot pink hole.

Julio chows down on Toni's ass like it was the last ass on earth.

Tony cannot take it any longer and needs that hot cock in his ass.

Julio sits down on the bed and Tony squats down over him.

Julio feeds Toni's ass his thick, uncut cock as deep as Tony wants it.

Tony whirls around so that he can face Julio as he continues to be pounded by Julio.

Julio flips Tony onto his back and spreads his legs wide as he penetrates his wet hole nice and deep.

Tony has entered into a state of euphoria as he strokes his cock and Julio slams his ass hard.

Toni's euphoric state takes him to the next level of pleasure as he gushes his thick creamy load all over his ripped, inked abs.

Julio loves the sensation that he has brought his partner to such a state and the sensation runs from deep within him and out the full length of his throbbing cock.

Julio pulls out and sprays Tony with his hot load.

As the two kiss and enjoy the moment Julio is still dripping cum from his fat cock head.

Some things are worth waiting for and can make the experience that much greater.
Those who liked this scene also liked
Comments about this video