Interview with: Miguel Leon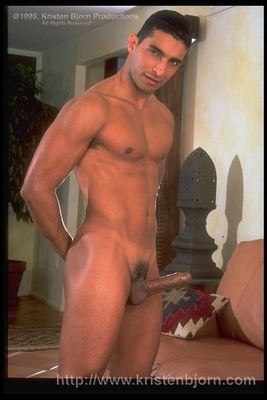 Q. Miguel, congratulations on your great performance in THICK AS THIEVES. I imagine that it's the first time you participate in a video, and you did it wonderfully! How old are you?
A. Thank you! I'm 27 years old.
Q. How tall are you?
A. I'm 5', 10"
Q. Which state in Venezuela are you from?
A. I'm from Caracas, the Federal District
Q. What was your age when you were first with a man? Where did you do it? Did you like the guy, and was it pleasant? Please give us a brief synopsis about it. I know that all of your admirers are hot to know how that glorious day went.
A. Ever since I was about 7 years old, I played around with other kids. In particular, I remember two brothers who were next-door neighbors who I had my first body to body experience with. We used to rub our dicks on each other's butts. We always got together at their house after school. I was 10 at the time, and they were bigger than I was, and always horny. Till this day, I like to have super horny lovers.
Q. Have you ever had sex for money, even when you were a teenager? Have you ever done escort work?
A. Well, I have had sex in videos for money, but not as an escort. Although I confess that I have thought about it a lot, and if I weren't in a relationship now, I would do it, at least for a while.
Q. Do you ever let the men you're having sex with fuck you?
A. Yes, of course. In fact, in the next video you will see me bottom. But I do feel much more comfortable as a top.
Q. Have you ever had sex with an older man, you know, some executive, entrepreneur, or someone important?
A. Yes, and it was very exciting! The guy was 38 years old, married, but he loved to fuck with me. He was always horny, and he was very experienced sexually. Just thinking about him gives me a hard-on!
Q. What do you wear to bed, either when you're alone, or when you're with a "friend"?
A. I always sleep in the nude. I need to feel free when I sleep.
Q. Describe the kind of man you find most physically attractive; hair, skin color, race, height, dick size, physique, etc.
A. That depends. If it's just to have sex once, I mostly like white guys who are tall, with wavy blond hair, muscular bodies (especially their legs), and without exception, big dicks and asses. On the other hand, I have had relationships with guys who don't fit that description. In those cases, their personalities attracted me.
Q. I would like to ask you questions all day, but I have to give your other fans a chance too. I can't wait for until your next video is available, since I know that you appear together with my other favorite model, Jorge Martinez. Just thinking about you two guys talking together in Spanish makes my dick hard, and my heart stop!
A. I'm glad that you like Jorge. So far, he is my favorite costar. He's a really charming guy, aside from the fact he has a great dick! There was a lot of chemistry between us, and in our case we weren't acting. I think we connected on a lot of different levels.
Q. You have a great body! Kristen Bjorn men are all gorgeous! How often do you work out? How would you like working out with a muscular Asian who has the same body size as yours? Have you ever had an Asian friend or lover with such a body size? If not, would you like to have one in the future?
A. Thanks. I try to exercise 5 times a week, but I don't always have enough time, but I always manage at least 3 times a week. Sure, I'd like to workout with an Asian, but I haven't had the opportunity so far. I have had Asian friends though, and they were very loyal, and we connected quickly. Would I have sex with a hot Asian guy? Sure, I'm always open to new adventures!
Q. Hi! You know that you look great. Please tell me, have you ever refused to make love to a guy or woman when he/she asked you for sex? Have many people asked you for one night stands? What kind of sex do you prefer the most? Thanks so much! Greetings from Greece!
A. You may not know this, but I work as a go-go dancer in clubs, and I get propositioned all the time by both men and women. Even if I wanted to, I wouldn't ever be able to have sex with all of them. The type of sex I prefer is passionate sex, not the mechanical kind. I prefer group sex, especially if there is a balance, when everyone is into each other. I love it when that happens.
Q. How do you feel about performing 'versatile'?
A. These days I feel better about it. With my present lover I have learned to bottom better than I used to. But I definitely enjoy being top more than bottom.
Q. What is your group sex fantasy?
A. I've always had a fantasy about being a navy admiral with absolute power. I imagine calling my sailors to attention all naked on the ship's deck, choosing 15 or 20 of them, and sucking their dicks one by one. I'd order them to commence a huge orgy, in which all rank would be forgotten, and they'd treat me like everyone else.
Q. How would you consider Venezuelan men in general who call themselves 'hetero' even if they had had a gay sex experience?
A. I believe that this not just a problem for Venezuelan men, but in all of Latin America, where men are conditioned from childhood by their mothers to be "machos," without being able to express their emotions, cry, or show any sort of vulnerability. So, in our culture, there are many married men with children who are homosexuals, but they don't admit to themselves who and what they really are. Maybe it's cowardliness, or weakness that they are that way. But every case is different, and we can't judge anyone else.
Q. How common is for your countrymen to try a little gay/bi sex?
A. When I was in secondary school, I had sex with women. At that time, it was practically obligatory to follow the cultural pattern. Now, I am completely homosexual, but when I see a sexy woman, I always think about having a three-way with her and another man.
Q. What is your message to all those Venezuelan (Latin) handsome well built extra hung men, not aware they could try to model for Kristen?
A. Generally, I think that they are curious about it, and they ought to try it. A lot of people criticize porn actors, but actually a lot of those critics would like to do it themselves, but they don't have the balls to try it. So, if any guys out there think they have something to show or to offer, they should send their photo to Kristen. He's always looking for new talent.
Q. Congratulations on your first KB video appearance! I wonder what you eat in order to be as gorgeous as you are?
A. Thank you, I'm glad to hear that you've enjoyed my work! It wasn't easy, but I still enjoyed it a lot. Unfortunately, I don't eat the tasty, and greasy Latin food as frequently as I'd like to. In any case, I'm a big eater; I eat 5 or 6 meals per day. My breakfasts are heavy: 6 to 8 eggs, ham, toast, bananas, and coffee. The rest of my meals are low fat, not over exaggerated though. I try to maintain a proper balance, the body needs fats and sugars too. Q: are you very vain?
Q. Have you ever bottomed? / if yes, how much do you like it?
A. Yes. I particularly remember 3 or 4 times when I was with guys who had enormous dicks. I think that's why I enjoyed it so much.
Q. Just a comment, if you ever do another KB video (please do) don't shave your lovely behind, I think lots of admirers would love to see your hairy crack! Do you think I would ever have the chance to rim you?
A. Do you know the song "Chances Are"? It's sort of difficult to please everyone, however I will keep your advise in mind for future projects. My position is that aside from making videos, I also dance. And in each field the requirements are different. Moreover, I prefer to keep my asshole shaved. But I will always try to please as many people as possible.
Q. Miguel, first off let me tell you that you are one of Kristen's most beautiful models, and one of the hottest I have ever seen in a porno video. For me, Bruno Diaz, Jorge Martinez, and especially you are all true gods brought to earth! As I would say in proper Cuban "eres un tremendo macho"! What I would pay to suck your big dick, and lick that glorious ass of yours... To me, you are the most, so excuse me for being so forward, but just the thought of you makes my dick hard! That's why I ask you to appease me by answering my questions directly and in detail..., please don't hold anything back! In a sexual encounter, how important is rimming to you? Do you like to give and receive? What was your most memorable experience?
A. Personally I like rimming, especially when they bite my butt too. I recall a lover of mine who used to make me cum without even touching my dick just by licking my ass. I also like to rim other guys. Even though I prefer being top, I still love to suck my partner's dick, lick his ass, and make sure that he is having a good time. My most memorable experience was perhaps with a close, apparently straight friend of mine who I fantasized about a lot over the years. One night he came over to my house to see me, we had a few drinks, and we started reminiscing about old times. While talking, I started to tremble, and I couldn't stop. He asked me why I was nervous, and I didn't know how to answer him. We decided to go to bed, and as soon as the light were out, he took my head, and pulled it down to his hard dick, and stuck it in my mouth. I was both surprised and touched. Then he asked me if I wanted to get fucked, and I said yes... Even without lube or condoms he penetrated me. It wasn't painful at all, I think that I had been ready for that moment for years.
Q. What is your favorite position to fuck somebody in?
A. I like to be on top of my partner, face to face, so that while I fuck him I can also kiss him, and watch the pleasure in his face. When we're ready to cum, I like to pull out, and cum all over his face.
Q. Do you masturbate? How many times a day? What do you do to get turned on?
A. I masturbate quite often. It's a very personal act; I make up my own fantasies, and remember situations. That's how I get turned on. I masturbate at least once a day, it's a way to let out energy, and to relax.
Q. What is your relationship to the rest of the Latin Bjorn models? Which models attract you? Who would you like to do a scene with, and why?
A. So far, I have only worked with 3 other Latin models, and my best, and most exciting experience was with Jorge Martinez in my upcoming video. Over all, I've enjoyed working with the other Latin models, and aside from working with Jorge again, I would also like to work with Adriano Sabroso. I met him rollerblading in Miami Beach, and he really attracted me. He's really beautiful, maybe more so in person than in video. I think we'd work well together.
Q. What was your most wild sexual experience?
A. It was in Venezuela, I was driving around a bus station, and saw a tall, muscular, man. He wasn't really good-looking, but he looked like a super macho, and he had a bulge which was difficult to ignore. I offered him a ride, and 10 minutes later I was sucking his dick on the shoulder of the highway right in the middle of the day. He had the biggest, fattest, and hardest dick I have ever enjoyed. In those days I was strictly a top, but if I saw him again today, I would beg him to fuck me.
Q. Which Latin celebrities would you like to spend a hot night with? With which Venezuelan celebrities?
A. The Venezuelans I would pick are Fernando Carrillo (they say that he's gay, and has a big dick), and a sexy, blond Venezuelan singer, Carlos Baute. On a more international level; Miguel Bose, Chayane, Ricky Martin, etc.
Q. How do you like men most, smooth or hairy?
A. I prefer them smooth. But I don't discriminate; if the guy is hot, a few hairs won't stand in my way!
Q. Allow me to tell you that I adore your dick. It's simply PERFECT! I'm curious to know which Bjorn models have, in your opinion, the best dicks, and why. Especially among the Latin models.
A. The best dicks belong to Victor Garaon and Alfonso Ribeiro from Amazon Adventure, because they were the biggest and the hardest, and they look really virile.
Q. Which parts of your body do you shave or trim?
A. I shave my chest, legs, and my ass, and I trim my pubic hair.
Q. Which is your favorite part of a man's body?
A. The penis.
Q. Have you ever been in an intimate situation with a black man, an Asian, or with some other exotic race? How was it?
A. I have been with black men a few times, not many, but I have never been with an Asian. I think that black men are generally more sensual, they are hot blooded, and they have naturally beautiful bodies. I enjoy touching, and caressing them.
Q. With which mainstream actors, from straight or gay films, would you fantasize about spending the night with, or doing a scene with, and why?
A. Edward Norton (American X History). He is really hot and sexy, and his body is perfect for me.
Q. Do you have any sexual fetish that you'd like to share with your fans? Please explain!
A. Nothing out of the ordinary. I like to watch a really hot couple having sex without participating; just to look at them and maybe direct them.
Q. Aside from acting, what else do you do to earn a living? Do you have a lover, or do you live with someone?
A. You don't earn a lot of money from videos. My main source of income is as a faux finisher, and also some go-go dancing. I have a lover who will also debut in the next KB video, named Jordan Felix, and we have lived together for about a year.
Q. Which is your favorite place to have sex?
A. That depends a lot on the moment, but the floor is definitely my favorite place.
Q. Which do you consider you best and your worst physical attributes, and why?
A. My worst are my butt and my legs. As for the rest of my body, I'm pretty happy with it.
Q. Now that we are talking a bit about everything, how big and how thick is your dick?
A. It's just the way you see it in the video THICK AS THIEVES, and in the next release. It's big, hard, and thick. Maybe one day you'll be able to see it and feel it in person.
Q. Do you have a preference in regard to circumcision? Do you prefer cut or uncut men? What has people's reaction been to your foreskin?
A. I have no preference, but I enjoy uncut dicks a lot, I like to feel the edges of the dick head. People have always been fascinated by my foreskin, and they like to play with it.
Q. In your private life, what are the best and the worst things that have ever happened to you?
A. The best thing was traveling to the US
Q. How do your friends and family react to what you do in front of the cameras?
A. My family doesn't know about it. I don't hide it, but they don't need to know about it either. If they find out, I'll explain my reasons to them. In any case, it's my life, and they're decisions that I have chosen for myself. My friends support me, and they suggested that I think it over to be sure that this is what I wanted. Once I decided to do it, they were supportive of my decision. After all it's a job, and what matters is that whatever you do, you do it well.
Q. One of the things that I liked most about THICK AS THIEVES was the way that you speak in Spanish. Tell me some words or phrases that a Venezuelan would say to a man while they're having sex. The more explicit, the better!
A. Wait for the next video. In my scene with Jorge Martinez we have a lot of hot dialogue, and I'm sure you'll like it.
Q. Miguel, I imagine that you don't even read these questions, and it's Bjorn's people who answer them. I doubt that they really track you guys down just for you to answer a bunch of questions from people about their fantasies. Any way, let me tell you that you are extremely handsome, and sexy. Your body is exactly the way I like it. Directly, are you gay or not?
A. Well, keep on imagining, because I really am reading these questions. I think it's important to know what people think about my work, and it's been a pleasure for me to answer these questions as honestly as possible. Anyway, I am always in touch with my producer, so it wasn't really too difficult to find me. Thank you for the compliments, they're nice to hear. Yes, I am gay, and if you have any doubt about that, just look at the way I suck Jorge Martinez's dick and ass in my next video!
Q. You are great in "Thick as Thieves." Do you have any plans to film another KB movie soon and is it a possibility you will bottom?
A. Thank you. In fact, just 2 months ago I finished filming my second scene in the next KB release. I don't know the title yet, but I was very happy with my costars, and I had more confidence this time. This time you will definitely see me as both bottom and top. I hope that you enjoy it, and that you think about it when you masturbate!
Q. What kind of underwear do you use? Any preference for a specific type of underwear?
A. Lately I haven't been using underwear very often. I like to feel my penis loose between my legs, and I've also noticed that people like to watch the way my dick bounces. So, I don't think I'll wear underwear anymore.
Q. Miguel, you are the best! I really think you're great, and that you're one of the best models from Kristen's latest videos. I wanted to ask you how you came to work with that producer, and also how you take care of your body..., it's really beautiful! If you ever decide to come to Argentina, contact me, and you'll have a place to stay.
A. Thanks for your comments, they're very nice. I got KB's e-mail address through a friend, and I wrote to him, telling him about my interest in working in his videos. He asked me for some photos, and a few weeks later we were recording my first scene. As for how I take care of my body, I exercise at least 4 times a week (never cardiovascular; it bores me) and I eat a lot of healthy foods. I never drink a lot or use drugs, so I lead a healthy life.