Interview with: Yuri Breshnev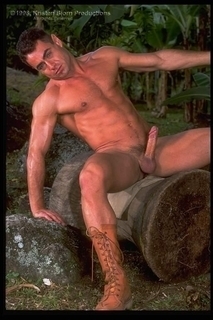 Q. I have to tell you that you are a real hunk of man. When I first saw you in Amazon Adventure, I was amazed! And when you got fucked by that big dicked Latino stud, it drove me WILD! Later, when I saw you in Manwatcher, you were still hot as ever. I haven't seen Thick as Thieves yet, but you can bet that I will soon... Let's just say that you've got a BIG fan in Chicago! Anyway, I have a couple of questions for you: Are you really Russian? How did you start making gay porno films?
A. Thank you for your nice compliments, they make life much nicer. Yes, I am Russian. I was born and raised there. I started making making movies about three years ago. How? A friend took some very good pictures of me. Another friend saw them and suggested that I'm porno material. I sent my pictures to Kristen Bjorn, since he is my favorite producer. Kristen and I met in Miami. We talked for several hours, and the rest is history.
Q. In your profile, it says that you're lovers with Jorge Martinez (another stud muffin!). So, do you both still make videos? Does that cause any friction between you?
A. Jorge has been my lover for just over two years now. I agree with you, he's really a "stud muffin". He looks even better in person. We both do movies. It's not a problem at all. Actually, I was the one who pushed him into doing movies. I think he's very photogenic.
Q. And last (but not least), when are we going to see your manly figure again on video? What are your future plans?
A. About my future plans, I plan to direct / produce live shows for theme parks. Making movies is not my main source of income. However, when Kristen calls me, I'm ready to work. So, I'm sure you'll see me again.
Q. One more thing; how come you're always in group scenes? How about a nice, hot one-to-one encounter?
A. This is a question for my director. That's just how he sees it, that's how he wants to use my talents. Generally, I'm very social and easy going. Kristen likes to place me in group scenes to help ease the atmosphere. But, I would love to do a one-on-one encounter. I prefer one-on-one versus group scenes.
Q. You always seem so hot in the videos I've seen, and you look like a real man's man, all masculine like. I like to see a real manly looking guy like you who can be top or bottom, and always look like a real man! I was wondering, assuming that you're gay, what is your favorite sexual act? It's hard to tell from your videos, you do everything so well.
A. Yes, I'm gay and happy. I don't have a favorite sexual act. I like sex and surprises. I like cute guys.
Q. What's it like to be gay in Russia these days? Are you out to your family and friends? What do they think about your video work?
A. I left Russia being straight, so I don't know much about Russian gay life. However, I have heard that bisexuality has become quite fashionable there. Most of my friends and family know that I'm gay, and they don't have any problem with my sexuality.
Q. What is it like to be in a Kristen Bjorn video? From what I read, it sounds like a lot of work. But when I look at it, it looks like you're all having one hell of a good time!
A. I don't know how much you know about Kristen. He's a very intelligent person. Being a world traveler, he speaks several languages. It's an honor to be recognized by the leading porno producer. Your heard correctly, this is very hard work that requires four days just to make one scene! If you see hot guys having a good time, that means we were a good choice of models.
Q. I've seen your first two movies (haven't seen THIEVES yet), and I'd like to know about the scene you did in Amazon Adventure where you're getting sucked off in the rain forest by a dark Latino guy, and suddenly it starts pouring rain. Was that rain real, or did it just start raining by coincidence? It was really a turn-on.
A. Great question, I can see that you really watch our movies! When we were shooting that scene, it started to rain. Kristen asked me if it was OK to keep shooting, I agreed. Kristen was under an umbrella, I was in the rain. It was a very hot scene, I had one of the best orgasms! You should try it outdoors too.
Q. And that scene where you fucked that black guy with a huge banana, was that your idea, or were you allowed to do whatever you wanted?
A. First of all, it was not a banana, it was a plantain (much bigger and harder than bananas). It's a funny story; I was with Antonio Rojas, and we started joking about doing a fuck scene with bananas. The next thing we knew, Kristen brought over some plantains, and we started playing with them. Usually, there's not much room for improvisation. Kristen knows exactly what he wants. Sometimes I want to inject ideas, but I usually don't. There should only be one cook in the kitchen.
Q. Since you've made several films with Kristen Bjorn, can you tell us which was your favorite film to work on? Which was your lease favorite to work on, and why?
A. I've made three movies with Kristen, and I like each one of them. My favorite is the movie I haven't done yet.
Q. I've seen and enjoyed your videos, and I'm really intrigued by the fact that you're Russian. You know, I grew up being told that Russians were our enemies, but now here we are watching them in our fuck films! Wow, with enemies like that, who needs friends, right? So, I'm curious, since you've apparently been in the USA to film here; what do you think about the USA? And, in general, what do you think about Americans? Do you have any thoughts about American men in particular? And sexually, how do we compare to Russians?
A. I've lived in the USA for the past six years. What do I think of Americans? I think they're great! They're not so different from other people (I travel a lot). I think Americans would gain a lot if they had more knowledge about other countries and their people. I love it here. Americans are generally very happy people. Sexually, American men are great! That's why I'm here.
Q. What are your future goals and ambitions? Where would you like to be 10 years from now?
A. My goals, ambition and future? You sound like my mother! I want to be happy with my lover somewhere on the beach amongst my friends.
Q. How long do you think you will continue to make porno films?
A. I will do movies until the time I don't like what I see in the mirror.
Q. If you could have 3 wishes come true, what would they be?
A. My three wishes are: For my two sons in Russia to be happy, I want my lover and my friends to always be around me, I want peace for all of us.
Q. What were your expectations before you made your first porno video, and how were they different from the reality?
A. I truly didn't have any expectations, because I'd never done anything like that before. I knew that I wanted to make porno films. Reality is different from making videos. Compare it to appetizing food on the dinner table versus it being prepared in the kitchen. It looks different. Sex is private is very intimate. Sex is movies is hard work.
Q. There have been a lot of comments about the supposedly "straight" models that Kristen has worked with, but I have a hard time understanding how that can work. Have you worked with any of those "straight" models? What's your opinion about them?
A. It's true, many of Kristen's models are straight, but not me. Most of the other models I've worked with are straight. How does it work? Perfectly, and I love to work with them. They are very professional. I've fucked some of them. But of course they still consider themselves straight. I know that many of them have girlfriends. This world has a lot of unsolved mysteries!
Q. Sexually, is there anything that you haven't done in a video that you'd like to do?
A. I haven't expressed myself in every way that I'd like to.
Q. Did making porno videos change your life in any way. What have been people's reaction towards you, both positive and negative?
A. Did making pornos change my life? Yes, I've become more confident. I've learned that I like it when people watch me. I've never had any negative reactions towards me, maybe because at the beginning Kristen taught me how to act. He told me that people will react towards me by the way I carry myself. If people see that I'm ashamed of what I'm doing, then they'll react negatively towards me. However, if people see that I don't really care, they won't care either. Also, most of my friends have seen my movies and magazines. Some of them think that I shouldn't be doing them, but somehow they still manage to enjoy watching them.
Q. Would you recommend making a porno film to a friend?
A. Well, I recommended making a porno to my boyfriend! Sure, I'd recommend it to friends as well.
Q. There are rumors about drug use in the porno industry. Is there any truth to that?
A. Maybe some other director's models are using drugs. I can tell you from my own personal experience that there are no drugs with Mr. Bjorn! Sure, he'll offer drinks, and he'll mix them for you, if you ask nicely. However, I personally don't see how you can do a movie on drugs. It takes a lot of concentration and ability to be able to respond well with others. Drugs don't allow you to do that.
Q. If you ever do a non-Kristen Bjorn adult video, Could it be a bisex video? Yes or No, and Why?
A. I consider Kristen a friend, that's one of the reasons I am doing his movies. No, I exclusively work with Kristen.
Q. Would you consider looking for extra-hung male talent in Eastern Europe for Kristen Bjorn videos?
A. Sure. But I know that Kristen already has strong contacts in Eastern Europe.
Q. If you could do a scene in a porno movie with any porno star (or stars) of your choice, who would you pick?
A. That's a difficult question, there are so many in my dreams. Professionally, I would like to make a movie with my lover, Jorge. Maybe a nice, passionate one-on-one scene. I think we would do it very well.
Q. What is your favorite part of a man's body?
A. An ass, with my dick in it.
Q. Would you consider doing straight or bisexual videos?
A. I'm not planning to work with another director other than Kristen, so if he decides to start making straight or bisexual movies, I'll do it, no problem.