Interview with: Sasha Borov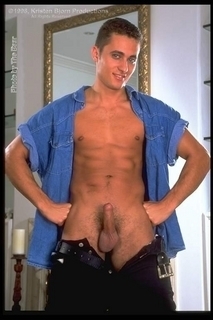 Q. I have seen some of your videos, and I think you're really sexy! How did you first get involved in making porno videos?
A. When Kristen was making videos in Hungary, he worked with one of my friends. My friend recommended him to work with me, then I met Kristen and he told me the details.
Q. Of the videos you have made, which one is your favorite?
A. The Anchor Hotel. We had a lot of fun while making that video.
Q. Of the other porno stars you have worked with, who was your favorite?
A. Sandor Vesanyi
Q. Do you prefer to work in group scenes, or just with two guys?
A. I prefer to work on group scene, because it is easier to work in a group and it is more enjoyable.
Q. I think you have one of the best faces and bodies in the business. You have a sensuality and screen presence that outshine everyone else! Your scene as a Russian soldier in Comrades in Arms is a classic! What was like to film it?
A. To make a video with Kristen is always a big experience. He has brilliant ideas in every film.
Q. I know that Kristen works with a lot of straight models, so how do you define yourself, gay, straight or bisexual?
A. I am definitely straight.
Q. I have a couple of questions for you. What is is like to make a Kristen Bjorn video? Is it fun?
A. It is a hard work, and it needs concentration and good team work, but we always have a lot of fun, because Kristen coordinates everything.
Q. Have you ever worked for any other studio?
A. I have worked for a British studio, but they make only softcore pornos.
Q. What kind of work do you do when you're not making videos?
A. I own a gym in Hungary and I spend most of my time in the gym.
Q. What's the strangest experience you've ever had while making a video?
A. I had a great partner (Sandor Vesanyi) and we were fencing with our penises, and then without touching them, we came at the same time.
Q. Is there anything that you haven't done on video that you would like to?
A. I would like to be a top once.
Q. How long will you continue making movies?
A. I don't know yet.
Q. You've been to America at least a couple of times to make movies, right? Do you like it here? What do you think about Americans in general?
A. I like America, especially South Beach, Miami. I don't know a lot of Americans, but I met a few and they are very nice people, and they mean a lot to me.
Q. Dear Sasha: I've been a fan of yours for some time, and there's something that I wanted to know. In all your films, you always get fucked. Is that because you want it that way, or because Kristen wants you to do that?
A. It's Kristen's choice for me to be a bottom.
Q. Do you have any personal sexual fantasy that you can share with us?
A. I would like to try group sex with lots of guys and girls together.
Q. I really loved the scene in Manwatcher with you and the 3 other guys. You have such a sensual way of doing everything! I'm curious about something; how well do you get along with your costars Do you all get along, or are there sometimes conflicts of personalities?
A. I get along with the costars quiet well. If we have any conflicts between us, we can sit down and talk about it and find a solution if somebody has a problem. We have also a few days at the beginning to get to know each other before filming starts.
Q. If your younger brother wanted to do gay porno videos, would you recommend it to him?
A. I would tell him to try it, and if he likes it he should continue.
Q. Have you ever made a bisexual or straight porno video? Would you if you had the chance?
A. No, I wouldn't do it, because they don't practice safe sex. They don't care about protecting their actors from diseases.
Q. When will we see your handsome face in another video again?
A. That depends on Kristen.
Q. Sasha, what's the wildest sex you ever had?
A. I haven't done anything really wild, I'm not into anything kinky.
Q. I also wanted to ask a question; I've seen you get fucked by some other guys with really big dicks in the videos! What do you do to prepare yourself before a scene like that? Did you ever get hurt while making a scene like that?
A. Kristen and his team help a lot. They give you a massage to relax you, and they are always ready to help if you get hurt even just a little bit.
Q. I have heard that a lot of the Eastern European models in Kristen's videos are actually straight. How do you think it's possible for them to make gay videos?
A. They can make up this feeling in their heads, and they can think about this as a job. Most of the time straight guys can work more effectively then gays, because it seems like gay people have to have feelings for each other.