Interview with: Cole Keller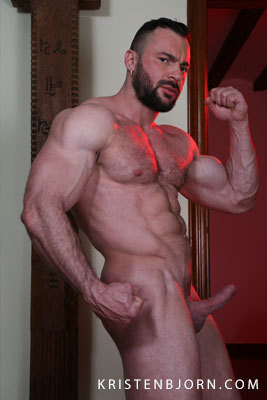 Q. When was your first sexual experience with another man? How was it?
A. I was 26 years old. That was with a man I met in a club. He was cheating on his boyfriend. That was weird. Not my best experience at all.
Q. How did you start as a gay model in gay XXX videos?
A. It was a threesome with one Guy I had sex few years ago (I didn't know he was a porn actor) and a Spanish actor who was very nice and hot. The shooting was at my place. That was weird but I liked it.
Q. Who is your favourite gay porn model?
A. Zeb atlas by far. I love bodybuilders.
Q. What is your favorite sexual activity?
A. I am a bottom and I love be fucked for a long time. I am very piggy and I drive the top guy crazy so he can never rest 😋🐷
Q. What is the wildest sexual experience you have ever had?​
A. That was in a cave with a very muscluar, dominant top
Q. What would be your your fantasy scene to shoot in gay bareback porn?
A. I would love to do a gang bang as a bottom
Q. While shooting gay porn with Kristen Bjorn, which was the scene you enjoyed shooting most?​
A. My first scene with Klein Kerr. He is very sexy and he fucks so good
Q. Which part of a man's body do you like the most?​
A. The chest, when it is very big
Q. What do you do when you're not shooting XXX gay videos?
A. I am an economist statistician engineer
Q. What do you consider your best physical feature? And the best feature of your personality?​
A. I guess my ass according to people 😅 Also my kindness. I am like a teddy bear
Q. What do you think about the abundance of free gay porn on the internet?
A. This is a a logical consequence of the expansion of the Internet and the streeming videos. Now you can find any video you want (porn or not) for free. I like it because I can find the type of porn i want to see in about ten minutes. I don't watch porn a lot
Q. Do you like black gay porn?
A. No
Q. What's the best thing that ever happened to you?
A. Falling totally in love
Q. What's the worst thing that ever happened to you?
A. When my ex, who I was completely in love with broke up with me. I am very sensitive