Interview with: Sir Peter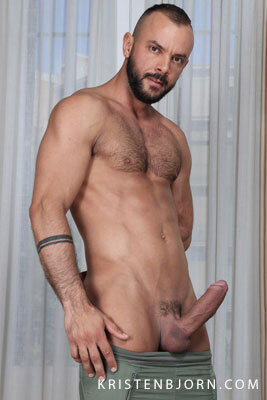 Q. When was your first sexual experience with another man? How was it?
A. I was 18 years old. It was new and exciting.
Q. How did you start as a gay model in gay XXX videos?
A. Out of necessity.
Q. Who is your favourite gay porn model?
A. There are a lot of them! My dream bottom is Devin Franco.
Q. What is your favorite sexual activity?
A. Fucking, fucking, and fucking!
Q. What is the wildest sexual experience you have ever had?​
A. 60 to 80 guys in an orgy, and I fucked all of them!
Q. What would be your your fantasy scene to shoot in gay bareback porn?
A. All of my favorite bottoms and me.
Q. While shooting gay porn with Kristen Bjorn, which was the scene you enjoyed shooting most?​
A. With Manuel Reyes.
Q. Which part of a man's body do you like the most?​
A. The legs.
Q. What do you do when you're not shooting XXX gay videos?
A. I study.
Q. What do you consider your best physical feature? And the best feature of your personality?​
A. Maybe my dick, LOL. And I'm very loyal.
Q. What do you think about the abundance of free gay porn on the internet?
A. There should be a law preventing that our work be spread freely. We work for a living like everyone else in the world!
Q. Do you like black gay porn?
A. Yes.
Q. What's the best thing that ever happened to you?
A. Porn.
Q. What's the worst thing that ever happened to you?
A. My mother's death.