Interview with: Heracles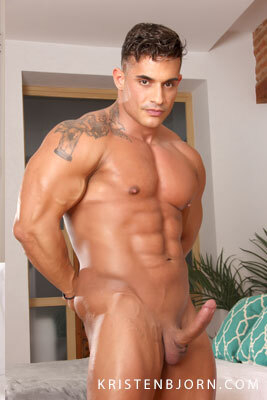 Q.When was your first sexual experience with another man? How was it?
A.My first experience was at 24 years old with a 42 year old man in his home. He had a big dick, and he took his time. But it was hot!
Q.How did you start as a gay model in gay XXX videos?
A.I started shooting with a company, but it was never released. Later I made contact with with Kristen Bjorn through my Tweeter account to do a casting. Now I'm very content.
Q.Who is your favourite gay porn model?
A.There are many that I still have to find out about.
Q.What is your favorite sexual activity?
A.When my partner makes me feel good, and is concerned about giving me pleasure. Communication is very important in sex to have mutual pleasure.
Q.What is the wildest sexual experience you have ever had?​
A.My wildest experiences can be seen on my OnlyFans account.
Q.What would be your your fantasy scene to shoot in gay bareback porn?
A.In a gym, on a beach, or out in nature.
Q.While shooting gay porn with Kristen Bjorn, which was the scene you enjoyed shooting most?​
A.I felt comfortable shooting all of them. I hope to shoot many more.
Q.Which part of a man's body do you like the most?​
A.The hands and the chest. And they should be very manly.
Q.What do you do when you're not shooting XXX gay videos?
A.I'm a personal trainer.
Q.What do you consider your best physical feature? And the best feature of your personality?​
A.The physique for me is secondary but it's a plus if the personality is good. I value my personality more since my greatest quality is sincerity and I have not yet found someone similar.
Q.What do you think about the abundance of free gay porn on the internet?
A.It is the worst ... it is piracy. You often see paid for scenes free on the internet and that hurts us because in the end we earn less ... those sites steal from us!
Q.Do you like black gay porn?
A.I love black men.
Q.What's the best thing that ever happened to you?
A.The realization that in this life you have to take risks to improve and have higher and higher goals. In general, very good and very bad things have happened to me, but the important thing is to learn.
Q.What's the worst thing that ever happened to you?
A.In general, what happens to all of us, we lose loved ones, we go through very bad spells economically, and emotionally. In my childhood the worst thing was the bullying that I suffered for many years ... and feeling that I did not fit in anywhere ... but that is in the past.