Interview with: Salvatore Exposito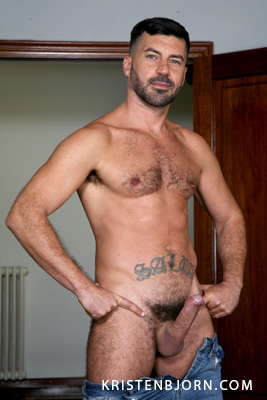 Q.When was your first sexual experience with another man? How was it?
A.It was with my music teacher when I was 18. I bottomed, and it really hurt. He fell in love with me, and gave me presents, which I later gave to my friends.
Q.How did you start as a gay model in gay XXX videos?
A.I started through another actor who told me I should do porn.
Q.Who is your favourite gay porn model?
A.Hector De Silva.
Q.What is your favorite sexual activity?
A.Fucking as a top outdoors.
Q.What is the wildest sexual experience you have ever had?​
A.An orgy in a swimming pool.
Q.What would be your your fantasy scene to shoot in gay bareback porn?
A.A scene in the sea.
Q.While shooting gay porn with Kristen Bjorn, which was the scene you enjoyed shooting most?​
A.I really enjoyed Santiago Rodriguez.
Q.Which part of a man's body do you like the most?​
A.The arms
Q.What do you do when you're not shooting XXX gay videos?
A.I go for walks and cook.
Q.What do you consider your best physical feature? And the best feature of your personality?​
A.My face. And the best features of my personality are my joy of life, and my sociability.
Q.What do you think about the abundance of free gay porn on the internet?
A.It's wonderful, but I also like printed magazines like they used to make.
Q.Do you like black gay porn?
A.Yes.
Q.What's the best thing that ever happened to you?
A.Travelling to incredible places.
Q.What's the worst thing that ever happened to you?
A.The death of loved ones.