Interview with: Diego Pastores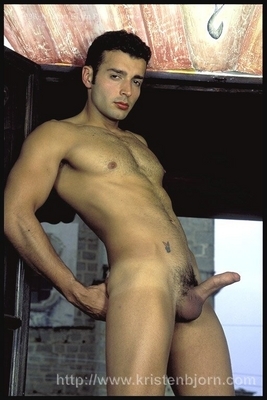 Q. This is the first time I've seen your picture. I think you're gorgeous. How many movies have you performed in? Which one is your favorite?
A. Thank you for the compliments. I have performed in two movies. One (BONE ISLAND) is yet to be released and the other is DREAMERS. It's difficult to choose a favorite since both times I was in very scenic areas and with very hot, uncut men. If I had to choose a favorite, however, I would choose DREAMERS because it was my first time working with Kristen Bjorn. It is such a turn-on being photographed and filmed by such a HOT man!
Q. You are gorgeous. I want to know which type of underwear is your favorite to wear and, in particular, if you like to wear thongs (G-strings) either to the beach or as underwear?
A. Thanks for those positive words. My favorite type of underwear would actually be jockstraps. I have never worn a thong, but would not be opposed to doing so. I am very much into great asses and always appreciate men who show as much of it as possible! So, I wouldn't mind returning The favor and showing off my 'assets' as well.
Q. How was your first time with a guy? Was it good, and did you top or bottom? How old were you? I hope you do more videos with KB, you have a very hot body and beautiful eyes! You are a pleasure to watch naked.
A. My first time with a guy I was 18 years old. I was on the High School Swim Team and he was on the Wrestling Team. It was an awesome experience! I remember it vividly, I practically came when we were kissing. We rubbed against each other and licked everything and anything! My first time was all oral, but eventually he was the first to plow into me as well. I hope to do more videos with KB also! He is great to work with, takes good care of us.... and did I mention how hot he is? Thanks for all the compliments, I'm glad you like to watch me.
Q. What is your star sign and what year were you born?
A. I am a Leo, and was born in 1979. I have to warn you though, I don't fit the typical Leo stereotype!
Q. You look younger than most of the other KB stars. How old are you? Will we be seeing more of you?
A. I am 24 years old and love sexy men of ALL ages! If KB wants to show more of me to you, you will definitely be seeing more.
Q. You're so beautiful! You must certainly be an affectionate and tender lover. Are you married?
A. Thank you for your words. When I'm intimate with someone, I like to give the same amount of love that my lover gives me. Even though it's just for a night of anonymous sex, or with someone who has been my partner for a while, I'm always passionate. No, I'm not married.
Q. What do you enjoy most, being top, or bottom?
A. In sex, I enjoy absolutely everything!
Q. What do you do to keep fit do you follow a certain diet and exercise routine?
A. To keep fit, I follow an exercise routine and I eat a balanced diet. I make healthy choices, whether it is food type or portion size. I do not count calories, since I LOVE to eat. However, I listen to my body. When I feel sated, it is time for me to stop eating. I make sure I eat my fruits and vegetables as well! As for my exercise, I follow a program that is basically a two day split routine. I do my warm-up, stretch and make sure I cool-down and stretch at the end as well. I incorporate super-sets and various other techniques in my workout to make it fun! Remember to incorporate fitness into your own lifestyle and not to let it rule your world. After all, what's the point if you aren't enjoying what you are doing?
Q. Hello Diego! Where are you from? I saw you in DREAMERS, and I liked you a whole lot. You have a gorgeous body, and a face to die for, not to mention your incredible ass. Did you like having Slava's beautiful dick in your delicious ass?
A. Hello friend! I'm from Morellia, Michoacan, in Mexico. I'm delighted that you enjoyed the video so much, I also enjoyed making the video! Thank you for such friendly words. I'm glad you like my body, my face, and above all, my body. Of course I liked having Slava's dick in my ass. He has a wonderful dick!
Q. Diego, you are a beautiful and a very hot guy. Were you ever an escort? Or you are you now?
A. Thank you for those kind words. No, I was never an escort, and am not one now.
Q. Hi Diego, do you like having threesomes?
A. I LOVE threesomes. But I also love solo, couple, foursomes, and groups! In short, I love sex! Although having more than one cock and one ass around makes it hard to focus, I start to get greedy and wish I could take them all at once.
Q. Do you like an outdoor sex? If so, where?
A. Oh yeah, I enjoy outdoor sex. Alternative locations for sexual encounters are very hot! Outside on hiking trails, the beach, rooftops, in cars, backyards, front yards, pretty much anywhere outside. One time I had sex right after a 1 on 1 game of basketball, right on the outdoor courts!
Q. Which male celebs would you like to have a sex with, and why?
A. There are many hot male celebs. If I had to choose one to have sex with, I would choose Luke Wilson. I would choose him because he has a sexy, quirky look that makes me want to fuck.
Q. Would you like to work with Czech pornstars like Pavel Novotny and Jirka Kalvoda? I think these guys have excellent bodies, and are really hot sex.
A. It would be a pleasure to work with any pornstar. After working with Slava, I certainly would not mind working with more Eastern Europeans. I enjoyed getting fucked and not understanding a word he was saying. Pavel Novotny and Jirka Kalvoda, I would agree, have excellent bodies and hot sex scenes in their work.
Q. You are the most handsome man on this site. You have very exotic looks and beautiful skin color. I think I'm in love!
A. Thank you for saying that. I'm very flattered that you find me so attractive.
Q. Mexican guys are so hot and macho! You look so good and take that white dick up your ass really well! Are you into white boys? Do you like uncut dicks better than cut? I just moved to the LA area and have seen some hot Latino guys but most of them have that gangster look. You look like a model and you are masculine, what a great combination! Hope to see your movie soon... You and that Russian look hot together!
A. I know I can be very macho sometimes as well. I am very competitive and can get very cocky. It's good that you liked watching me take Slava's big white cock up my ass. I wouldn't say that I'm into just white boys though. I'm into all kinds of men, as long as I find them sexy, it doesn't matter their ethnicity or color. I'm an equal opportunity, versatile fucker! There are a lot of gang member type Latino guys out here in L
Q. I saw your movie and I was just blown away. You are hot and a star was definitely born! Anyway, I was just wondering what your nationality and genealogy are. We have the same last name, and that last name is pretty rare. I am of Chinese, Filipino, and Spanish heritage, hence my last name Pastores. Is that your real name? Once again, keep "up" the good work and I hope to see you emerge as a force to be reckoned with in this industry.
A. Thank you for being so kind with your words. Although my parents are Mexican, their heritage is also mixed. Remember that, in the past, Spain was all over the place. So I am not surprised to hear that the name Pastores has spread all over to include the Philippines. Yes, that is my name and I will continue to keep "up" my good work! I hope to work more with KB in this industry as well.
Q. Would you care to tell me the kind of guys you are attracted to?
A. I do not have a specific type that I am attracted to. I find different types of men attractive at different times. They never really fit into one category. I am drawn to sexiness, which is a very subjective characteristic, so it always varies.
Q. Hi Diego, I saw your movie and I was very impressed by your performance. You seemed to be enjoying the camera. Do you like to be watched? If so, have you ever had someone watch you while having sex, besides making movies?
A. I enjoyed performing for all of you! Yes, I do enjoy being watched. I've had people watch me having sex in the past. It is a turn on to know I am getting someone off just by letting that person watch what I do. I get off on getting that person off. I especially love to let the jocks watch me in the shower as I show off my body while I clean it off.
Q. If you had the power to change something in this world, what would you change, and why?
A. If I had the power to change something in this world, I would change nothing. The reason why I would change nothing is because I feel that there is a natural order of events. Everything that has occurred has caused something else to take place. If I changed even one small thing, it could have detrimental affects on other aspects of the world that are good.
Q. How is the gay social life in your country? Do people there accept gays as they do straights? You know that doesn't happen in my country (Indonesia), because our culture doesn't allow gay people to exist. Isn't that sad?
A. I am lucky to live in the United States. In this country, we have come a long way in acceptance of the lesbian, gay, bisexual, transgender, queer and questioning community. However, apparently not as far along as Canada! I think it's great that marriage is legal there, and someday it will be here as well. I am sorry to hear that Indonesia's culture is so harsh towards others because of their sexual orientation. Your country is one of many that are still hostile towards others for such things. It is a very sad reality, however we are a strong community that will continue to thrive regardless of other's efforts against us.
Q. What makes you blush? And turns you on?
A. When I am given a compliment I blush. I become a bit speechless as well. As for turn ons, sexy smiles are hot. Competitive sports are also a turn-on.
Q. What kind of places do you like to visit when you have free time?
A. When I have free time, I enjoy nature. I love going camping and white water rafting. I also enjoy outdoor running.
Q. What was your your nastiest sexual encounter?
A. My nastiest sexual encounter was in a gym. I had finished working out and headed to the locker room. When I got there, a guy was laying on the bench, full of sweat. I guess he was relaxing or something before his shower. Anyway, I couldn't stop staring at his crotch and it was so obvious he wasn't wearing any underwear under his basketball shorts. Then I took off my shirt to get ready to shower and when I glanced back, he had a semi! Then I realized he was watching me watch him. So I walked over and just started sucking on his dick. He was sweaty and I loved the taste of his salt and the smell of his sweaty balls, then he fucked me and while he fucked me he put my sweaty jockstrap in my mouth. It was fucking hot and nasty!
Q. What turns you on the most about men?
A. A man's ass is what turns me on the most. I LOVE ass! I don't care if it's smooth or hairy, muscular and hard, soft and bubble butt type, so long as it's a hot ass.
Q. What is the hottest scene you've ever been in?
A. The hottest scene I was in is in my latest KB video, BONE ISLAND. Miguel Leon is fucking me and my 'brother', Guillermo Pastores with his big, fat cock, and taking turns rimming us.
Q. How and why did you get into porn?
A. KB porn has always been my favorite porn. His movies were the first porn I had ever scene. He used men of all colors and mostly uncut guys. When I was younger, that made me feel more confident about myself as a Mexican guy with an uncut dick. Believe it or not, when I was younger, in the locker room most white boys were circumcised and thought my foreskin was weird. Nowadays, some white boys are uncut, and most wanna suck on my foreskin and think it's hot. I always felt KB used the hottest men in the world and was more than happy to work with him in bringing this same confidence to other men. Bringing pleasure to other men is a wonderful thing and through video I can give that pleasure to men all over the world. The idea of other men getting off on my image makes me hard!
Q. I read in a news paper that in an international study Mexican and Venezuelan men topped a list of nationalities in that they think about their personal appearance CONSTANTLY. Do you often think about your appearance? And how important are the looks for you?
A. That is an interesting finding. I do not often think about my appearance. I have too many other things to think about. Aesthetics are important since it is the first thing you present to those around you. However, they should not run your life. It is more important to be competent, interesting, clever and funny than it is to look perfect.
Q. You look absolutely gorgeous! How do you think of frottage (rubbing), nipple plays, French kisses in the films you make and in your private life? I hope that you will cooperate with Kris for long and do lots of frottage for us.
A. Thanks for the compliments! I enjoy frottage, nipple plays and French kisses both in the films I make and in my private life. I also hope to work with KB for a long period of time and perform lots of frottage, among other things! Foreplay is an awesome thing. I savor every moment of sex. When I am intimate, I enjoy smelling, licking and feeling every part of the man I am with. Sometimes, I just enjoy that so much that having to cum is not necessary or I enjoy it so much, that I am on the verge of coming the entire time!
Q. You are so gorgeous! Are you single? Would you ever marry another guy?
A. Thank you. Yes, I am single. Marriage is such an intense commitment to make, but yes, if I found the ONE I would commit to that. However, if that does not come along, I am not afraid of being single forever!
Q. What kind of schooling have you had? Did you go to collage? If so, what was your major?
A. I have a degree in Biology and am currently in a graduate program. I love science and eventually plan to enter the medical field.
Q. What's the best thing that ever happened to you? What's the worst thing?
A. The best thing that ever happened to me was being blessed with a wonderful family! They are supportive of all that I do and love me no matter what, as I do them. The worst thing that has ever happened to me was having someone I cared for deeply take her life.
Q. Have you ever been in a long term relationship? Would you like to be in one?
A. Yes, I have been in long term relationships. My longest relationship endured 3 years and I wouldn't mind entering into another. Of course, ideally, long term really would be more than 3 years!
Q. For you, what is the ideal man, both physically, and mentally?
A. My ideal man would care for his mind, body and spirit as I do for mine. We would have mutual respect for each other and share our separate spaces as well.
Q. How often do you have sex? A gorgeous guy like you must have it all the time, right?
A. wish I was having sex all the time! I always want to have sex, but most of the time I am busy with school, work, or my family! Sex all the time would be so hot!
Q. Does your family know about your video work? If so, what was their reaction?
A. Yes, my family knows about my video work. They find it amusing that I am a porn star and so do I! We never thought I would be involved in pornography, let alone have fans as well. It's a great experience and my family is supportive of everything, we are all very open minded.