Interview with: Marko Nagy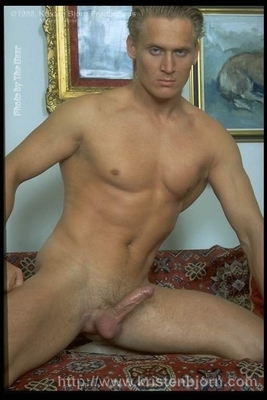 Q. Did you enjoy being the first man ever to lick Alexei's asshole, let alone fuck it (him)? Please elaborate on this matter.
A. Of course, who wouldn't enjoy licking Alexei's ass, or fucking him? Alexei's an incredibly beautiful guy, and I enjoyed working with him very much. However, I wasn't the first man to fuck Alexei... I think that Reszo Farkas had that honor.
Q. Hi Marko, how do you do? I'm Chilean. Let me ask you, did you really lick and/or ate and/or swallowed Alexei Gromoff's semen in the gym scene? Did you like it? You are one of my favorite KB actors.
A. Thanks. When we were filming, we always had an interpreter to translate Kristen's directions into Hungarian. When we filmed that cum shot, I was just following my instincts, and I put Alexei's dick in my mouth after he came. Kristen told me not to do it, but by the time that was translated, it was already done. I know that you shouldn't do that, but with Alexei I felt safe enough.
Q. You are a great performer!!! I really enjoyed watching your movies. Have you ever been in the USA? If yes, what cities?
A. No, I haven't, but I would like to visit the USA one day.
Q. Are you straight, gay or bisexual?
A. Bisexual.
Q. I have not seen you perform in any of the latest Kristen Bjorn films. Are you planning on working again with his company?
A. I haven't worked with Kristen since 1994, and I'm not sure that I want to make any more videos. It was a good experience, but I think that I have had enough of it.
Q. How old & how tall are you?
A. I'm now 32 years old, and I'm 6 feet tall (1.82 cm).
Q. I've watched a lot of Kristen Bjorn movies, and one question always pop up in my mind.... How do you guys cum so much? Is there something that you guys take to make you cum so much? You guys are so sexy!
A. I don't know the answer to that question! I guess some guys just naturally cum more than others.
Q. Marko, you were lucky enough to fuck, suck the cocks of, and lick the assholes of the two most beautiful men in the KB farm: Alexei Gromoff and Thomas Kruc. Can you describe those moments? How was it to fuck the virgin ass of Alexei? How was to keep fucking Tomas Kruc for hours and hours until his ass soared? Are you still in contact with them?
A. Hey, they were pretty lucky to be with me too, don't you think? I'm glad that you enjoyed watching us together, Alexei and Tomas are both very sexy guys, and nice to work with. I haven't seen Tomas since we worked together, but I have been in contact with Alexei a few times over the years. The scenes we shot together lasted days, not moments, so it's hard to tell you everything that was going through my mind during that whole time. Mostly I was concentrating on doing a good performance for the video. I do remember that my dick got pretty sore after fucking Tomas for a couple of days, though...
Q. I think the three films in the Hungarian series are some of the best ever. Having visited Budapest several times I also have to say that Hungarian men must be amongst the most beautiful. These films reflected this, and your made a large contribution to this. I wanted to ask how you got into this, had you worked on other videos for other companies and what are you up to now. Do you miss this type of work and will you return to it? Congratulations on a great achievement !!!
A. On behalf of Hungarian men, I thank you for the compliment! The only exposure I had to this type of work was in 1992 when I was photographed by Steve Cadro for a Hungarian magazine. A couple of years later, he contacted me, and asked me if I wanted to make a porno video. I then had an interview with Kristen in Budapest, and it was then that I learned that it was a gay porno video. Since the money was good, (and like everyone else, I need money!) I accepted. I haven't worked for any other video companies since then.
Q. I have read several times that you are heterosexual, and I accept that. I realize Central Europeans' view of sex and sexuality differ vastly from that of puritanical Americans. Yet, the world at large, so far as I can see, abhors homosexuality. How are you, as a heterosexual male, able to achieve homosexual sex acts (e.g., sucking, rimming) with such expertise -- even relish! (It seems you've taught us all a thing or twelve!)
A. This is the first time I have ever done an interview, so where did you read about me before? I don't know how Americans think about sex; I thought it was a modern and liberal country. Hungarian people are very sexual, but sex is considered a personal subject. It doesn't really matter what a person does in his private life; that's not something that concerns anyone else. Personally, I like sex very much, and I'm not too worried about what other people think about it.
Q. I'm not aware you've ever been anally penetrated on screen. However, have you ever been curious about what that is like, and have you ever explored that aspect of your own sexuality. (Sorry if this is too personal, but I am curious.)
A. I did get fucked by Atilla Sipos in my first video HUNGARY FOR MEN. I think that when the moment is right, all kinds of sex can be enjoyable.
Q. How have you overcome preponderant heterosexual homophobia in order to participate as you do in homosexual sexual acts?
A. I guess the same way that everyone else does... I just don't give a fuck!
Q. Spiritually and mentally, you must be a remarkable man, and that will surely keep you in good stead once your physical remarkability has waned. You are to be admired, and for more -- much more than the obvious.
A. Thank you. I don't really know if I'm so admirable, but I'm very glad that you enjoyed my videos. And I hope that I'll have some redeeming qualities after my body stars sagging!
Q. I've read the messages already left for you and I'd like to add my thoughts. Kristen Bjorn has said you're one of the sexiest guys he's worked with and I totally agree. It doesn't matter to me if you're straight or gay. I loved your videos, I hope that you'll be back in another real soon. PLEASE say you will! Having watched THE VAMPIRE OF BUDAPEST I wanted to fly over to Budapest and get bitten by you at once!
A. Thanks. If you come to Hungary you'll have to let me know, so I can be sure to give you the bite you need!
Q. I read that it was real cold in that barn in which your scene in HUNGARY FOR MEN was shot. Surely it wasn't as you were so hot! I really enjoyed seeing your fabulous body being plundered and wondered if it was the first time?
A. Since the word "hot" (meleg) in Hungarian means "gay", it took some explaining for me to understand your statement! I'm happy that you think that I'm hot enough in all senses, but that barn was still damn cold! That wasn't the first time I had been fucked, but I still don't have a lot of experience in that area.
Q. What year were you born in and what is your Zodiac Sign?
A. I was born in 1968, and my sign is Scorpio. Are you surprised?
Q. Did you grow your hair long especially for Hungary For Men? It looked great.
A. No, I had been growing my hair for years before I met Kristen. Actually, I got it cut short as a special condition for making THE VAMPIRE OF BUDAPEST, and then cut even shorter again for COMRADES IN ARMS, so it would look more like a military cut. I was sad to have my hair cut off, but it was also liberating. Plus, I got a lot of compliments with my short hair! I like to keep it short now, it's a lot easier that way.
Q. What work have you been doing since your last video? On behalf of your many fans all over the world THANK YOU and I look forward to seeing you again in another video.
A. Thank you. It's gratifying to know that people around the world have seen my videos and have jacked off while looking at me! I've been doing a lot of different kinds of work since I made those videos... During the war in Yugoslavia I was smuggling gasoline across the border... I made pretty good money doing that.
Q. Tell us about the first time you had an orgasm and what it was like. How often do you masturbate?
A. I had my first orgasm when I was twelve. I was in the shower washing my dick with the hand shower. I had played with my dick before, but this felt really good! Between the rubbing and the hot water, I felt like I was exploding, and suddenly I came. These days I usually masturbate at least a couple of times a week... Or even more often when I don't have any other sex partners.
Q. Which of Budapest's thermal baths do you prefer -- and why? Is one likely to encounter you there?
A. I don't live in Budapest, but in a city over 100 kilometers away from it, so you probably will never run into me in Budapest. I haven't been to all of the thermal baths in Budapest, but I know the Gellert bath, and it is supposed to be the most beautiful one.
Q. You seem to greatly enjoy rimming the butts of your fellow costars. Does your tongue ever get tired or are you truly turned-on by the hours of ongoing action?
A. I'm an exhibitionist, so it's always a turn-on for me to perform sexually for other people to watch, no matter what I'm doing. I also enjoy getting others guys excited with my tongue, mouth, dick, or whatever it takes to do the job!
Q. How does it feel to you to have some of the most beautiful men in Hungary devour you for days?
A. It feels great!
Q. Have you told your girlfriends and family that you have worked for Mr. Bjorn in gay-oriented films? How did they react?
A. Actually, I did have a girlfriend at the time I shot those videos, and I told her all about them. She thought it was really exciting, and she wanted to come and watch us film. Later on, she fucked me with a dildo, and asked me if it felt as good as being fucked by another man... Of course it didn't, but I lied! The only thing she was upset about was me getting my hair cut short. She cried when I did that.
Q. I want to know if your family knows about your life as porn actor? If you keep it a secret, what things are said to keep the secret?
A. I haven't told my family about my short porno career... I don't usually discuss my sex life with my family anyway. The best way to keep a secret is just not to say anything at all.
Q. Who are your favorite American stars?
A. I like Johnny Depp and Jodie Foster; they always make interesting films.
Q. What do you like to do for fun?
A. I like to go to the movies, hang out with friends, or have a nice dinner. Of course, nothing beats a good sex party!
Q. Do you like watersports, I mean golden shower action? Have you ever pissed on other men or other men have pissed on you?
A. That's an interesting question. When I was a teenager, I played with an amateur soccer team. Once, after practice, I was in the shower with three other players. One of them started to piss in the shower, and when one of the other guys scolded him, he turned around and started to piss on us! So, in retaliation we started to piss on him too, and it turned into a short lived piss fight. We were just kids playing around, though, it wasn't really sexual. That was only time. Maybe I should try it again.
Q. I think you're beautiful and fantastic, and I'd like to know how you feel when you play the female role for another man.
A. Thanks for saying I'm fantastic... You know, even when I get fucked by a man, I don't feel like a female, I feel like a man getting fucked by another man. So, I don't know how to answer your question. Sorry.
Q. What kind of music do you prefer to make love to, Mr. Nagy?
A. I like romantic music for making love... Some of the mellower classics from Chopin or Beethoven work really well.
Q. Greeting form Warsaw, Poland - by the way, do you guys know, that in Hungarian Poland is Lengyelorszag? Do you prefer to have sex with European and Latin American guys, or with the few Americans who act in Kristen's videos?
A. I think that I've only had sex with Europeans, so I can't compare them to South or North Americans. Actually, I'd like to have sex with some black people... That's one of my fantasies!
Q. Have you ever had a threesome / foursome with men and women at the same time? If yes -- how was it?
A. That's something I have done many times. In Hungary, sex parties are the latest craze among young people these days. They are usually mixed male and female, but you have every combination imaginable. I like it because you can do all kinds of different things you just can't do with only one partner. For example, you can fuck and suck a dick at the same time... But it's like other sex too, sometimes it can be great, but sometimes it's not.
Q. How do you - Kristen models, get along together "after hours" -- do you enjoy each others company?
A. Since I live outside of Budapest, I didn't see my costars much after we worked together. And while we were in production, at the end of each day we were always too tired to do anything but eat and go to sleep.
Q. Are you completely out of the adult video business, or have you been in any of the European movies under a different name? Would you consider working with Kristen again if the opportunity was presented?
A. I am completely out of the business. At this point, I'm really not interested in making any more videos.
Q. Presently, what is your marital status?
A. I'm single, and free as the wind!
Q. Hi Marko! And best wishes for the New Millennium. I just wanted to ask, how do you -as a straight man - find another man's cum. I know that heterosexual men usually consider it a nasty thing - they don't like to play with it, and would never taste it. What is your opinion? Do you like other men to cum on your chest? face? Do you like to cum on the face of your partner - no matter a man or a woman?
A. Did I say I was straight? I think that even though a man might prefer to have sex with women, any man can enjoy having sex with another man when the moment is right. Personally, I don't think that people need to define their lives by what they do in the bedroom. We're entering the 21st century now ... the time to worry about all that crap is long over. Life is short, and sex is one of the few really good things out there. During an intense sexual encounter, a man's cum can be very exciting to have shoot on you, or to shoot on someone else. It all depends on the moment. That's what I think.