Interview with: Hans Hintern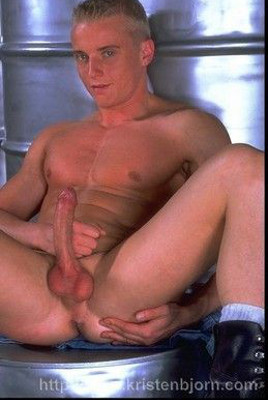 Q. Greetings from Chile! Receive all my congratulation for your work. You are fantastic, and I would like to know you are alive, but it's impossible. Is it possible for you send me a photo with your autograph? Please, again receive my congratulations.
A. Well, it is a little difficult sending you a picture with my autograph since I don't have your address.
Q. Hans you are quite a stud. What was it like getting fucked by Buddy Jones? Will you be making more videos for Kristen? I sure hope so. You really turned me on.
A. I'm glad to hear that I turned you on! Buddy is normally not the type I would go for but it's always good having a nice big cock up your ass. For the near future I am not planning to do another movie but you never know, so watch out for future films.
Q. You are one good looking man! Are you gay? Are you available? What's it like working for Kristen? He's one of my gods. You gave a really hot performance in Wet Dreams. Hope we will see more of you!
A. Yes, I am gay. Available - depends how you mean it! Currently I am dating someone, but that does not mean that I can't have some fun with others every now and then.
Q. Hallo Hans! Auf Deutsch fällt mir das Fragen leichter. Was mich schon lange interressiert ist, wie ihr euren "Hintern" reinigt. Spülung oder dergleichen?? Mit was kriegt Ihr euer inneres sooo sauber?? Danke fürs antworten.
A. Hallo mein Freund, gut zu wissen dass ich auch deutsche Fans habe. Ja, wie wir uns so sauber kriegen - da kann ich nur fuer mich selbst sprechen. Einfach sicher stellen, dass man richtig auf Toilette war vorher und ordentlich duschen - so einfach ist es (zumindest fuer mich).
Q. Hans - where in Germany do you live? What type of underwear to you wear? What's your favorite kind of sex? Hope to see you again!
A. I'm a so called 'Ossi' meaning that I am from the former GDR, from Dresden to be precisely. I don't live in Germany anymore. I live in London and I also lived in New York City for 1 1/2 years. Underwear: I prefer 2xist or Hugo Boss ...or no underwear at all....
Q. You sure are a hot stud! What is like to have to perform in front of a camera? Is it hard to get it up in front of the crew? Are you basically an exhibitionist? Sure hope you show that hot body in front of Kristen's talented camera again!
A. Thank you for the 'hot stud' that's always good to hear. It was not easy getting it up in front of the camera all day long. Also there are the other guys and getting it up at the same time and keeping it up was at times quite difficult, but only the result counts! I do like to show my body, that's why I am go go dancing in clubs from time to time.
Q. Hans, you have such sweet balls. Do you keep them shaved or just do it for the movies? Have you been in any other videos? Would love to see you again.
A. I keep my balls always shaved. It's just a much better sensation if somebody licks them, and it also looks better and bigger. I have not been in any other videos, WET DREAMS was my first appearance.
Q. Hans, are you mainly a bottom? What about in your real life? How often to you masturbate? Do you watch your own movies? Does it get you hot? It sure got me hot! I've got to see more of you!
A. Yes I'm mainly a bottom, I LOVE love having a cock up there. I masturbate normally once a day, if you don't have sex it is a good stress relief. I have watched my own movie. At first it was a bit strange seeing yourself doing all these things. Doing a porn movie is not that easy and I was pleasantly surprised that the end result is not bad, and I can see that others like it too.
Q. Have you ever thought of professionally modeling? I think that you have a certain beauty about you that makes you stand out. Personally I'd love to see you up and down the runway showing off clothes.
A. Every now and then I do some modeling. I just did a fashion show at the gay pride in London. But normally I'm a little too short for modeling, instead I am go go dancing.
Q. What's your favorite color?
A. Blue and black.
Q. Do you like to play video games?
A. No, find it boring and a waste of time.
Q. Do you have any siblings?
A. I got one brother who l like very much.
Q. If you could be any part of the body of either gender.. what would you be and WHY? Thanks Hans! :)
A. I never thought about that. To be honest I really don't know.
Q. Which do you find sexier: cut or uncut dicks?
A. It doesn't matter, as long as they have a decent size. The bigger the better .....
Q. Thank you, thank you for the pleasure you've given me and your many other fans! Keep up the good work, and I hope we see more of you in the future. Just a couple of questions: How old are you? As a German, what's it like working with guys from other countries and speaking other languages? Are there language problems, or does Kristen Bjorn translate everything?
A. Good to know that you enjoyed the movie. I am 28. It is great working with guys from other countries. I do speak English very well since I have been living in London and NYC for several years. So Kristen did not have to translate for me but we had a French Canadian guy who did not speak English well, so we all had to practice our little French knowledge and Kristen did very well in that!
Q. When did the first time you have sex with male or female?
A. First time I had proper sex was with a guy, I was about 18, although I had been playing with girls a little before.
Q. What is your favourite position?
A. I like having my legs in the air when someone is fucking me. That way I can see the other person and their facial expression.
Q. When is your birthday?
A. In December (Sagittarius)...... Do you want to buy a present for me?
Q. Kristen mentioned that most of his models are straight. Most of you seem to have rock hard erections that never go down, hardly even right after shooting off. So I was wondering, do a lot of the actors have their wives or girlfriends on the set to give them quick sucks and handjobs in between takes, to help keep them hard?
A. On my set there where no girls, wifes etc. We had all kinds of magazines and that had to be enough to help you get hard.
Q. Hans, hello from Canada! It's kind of funny that your first time on video you were fucked by 2 other Canadians. How did you like that experience with your 2 costars in WET DREAMS 1?
A. In general, the two where not 100% my type, but they where very pleasant to work with and really nice guys. So, after all I just have to try more Canadians.
Q. You have a beautiful ass! Have you always been a bottom? Do you enjoy it? How did you prepare yourself for those 2 BIG cocks? Did you play with them the night before filming?
A. Yes, I think my ass is one of my best assets. I have not always been a bottom but recently I have been enjoying it very much. No playing the night before filming, Kristen is quite strict in that respect and makes sure that we get enough rest and save our energy for the set.
Q.I wanted to know what your wildest sexual time was?
A. My wildest sexual time........mmh....I went clubbing and met some guys who invited me for an orgy, That was hot as all the others where in good shape and great to play with.
Q. How did you meet up with Kristen? Explain how that process works. From the time you were approached to the time the camera first started to roll. Thanks. Hope to see you in future productions. Kristen are you listening? WE WANT MORE HANS!!!!!!
A. Friends of mine had worked for Kristen, I watched their video and thought that it is very professionally done, not any of those cheap and nasty movies and thought that I wouldn't mind being in a well produced porn movie. So, they put me in contact with Kristen, I sent him some pictures,......and the rest is history.
Q. Hans, tell us about your first time with another man. Did you like it? What did you do with him?
A. My first time with another man was when I was about 18. I did not really like it, I think he was not my type but I was curious. The first time I really enjoyed having sex with a man when I was 21. I had met a very hot Brazilian stud.....
Q. What is your sexual orientation? You are bottom or top (in your real life)?
A. More bottom than top.
Q. Do you have a boyfriend at the moment? What kind of man are you attracted to?
A. I am seeing someone at the moment. We don't call each other boyfriends yet, too early. Sex is not the main reason why we date, we connected mentally really well, which I hope is a better basis for a relationship. In general, I like men who are in a good shape, well built and uncomplicated, I don't like drama.
Q. Which of the Kristen Bjorn models are your favorites?
A. Haven't thought about any favorites yet, but there are definitely some really hot ones.
Q. What kind of work do you do when you're not filming?
A. I'm working for a consulting firm, and once in a while some go go dancing or fashion shows.
Q. What is the best thing that ever happened to you? What is the worst thing?
A. I had many good things happen to me in life as well as bad things (I think more good things than bad things) but there is no such thing as the worst or the best.
Q. What are some of your hobbies and interests?
A. Working out regularly, dancing, some culture (exhibitions, theater etc. - London is definitely a great place for this) and traveling.