Interview with: Claudio Marino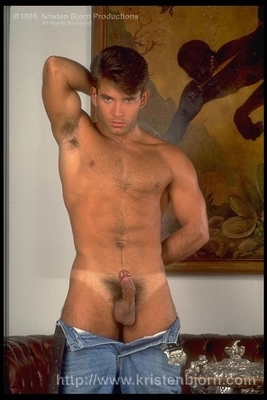 Q.
A.
Q. Claudio, You and Ivan Cseska are my two all-time favorites of Kristen's models. Please, please work with him again to give us more videos. I'm sure that many others from the web site will ask you all kinds of questions about sex -- I'll leave that to them. I'll ask more offbeat things: What is your favorite food? Beverage?
A. Thank you for the compliment. My favorite food is sea food. And my favorite drink is white wine from southern Brazil.
Q. What is your favorite color?
A. It's black. I particularly like to dress in black.
Q. What is your favorite type of music? Composer? Singer?
A. I prefer rock music. I don't have a favorite composer, but as for singers I like Cindy Lauper.
Q. Who is your favorite author? Which is your favorite book?
A. My favorite author is Tom Jobim, from Brazil. My favorite book... That's a hard one. Right now I'm reading The Vacation of Henry Adams, by D.W. Brogan.
Q. What is your favorite movie? Your favorite actor?
A. I love action movies, so my favorites are all of the Rambo series, 1 through 4. My favorite actor is Tarsicio Meiras, from Brazil.
Q. What is your favorite place you've visited?
A. France. Paris is incredible!
Q. What place you would like to visit?
A. Definitely Australia!
Q. What was or favorite subject in school?
A. Mathematics
Q. What do you do for a living?
A. I model, and do some odd jobs on the side when necessary.
Q. What is your favorite fun thing to do? Thanks for the videos you have given us, and if you are ever in Washington, DC, I'd love to meet you.
A. My favorite fun thing to do would have to be having sex, of course! It's too bad I'm not in Washington, DC right now so we could meet.
Q. Do you like to watch porn-video? What is your favourite one?
A. Yes, I do. I like them all. I don't personally own any, and I don't know any of the titles.
Q. How many times per day do you use to cum? Did you ever taste your own cum? Did it taste good? May I try?
A. I cum about 4 times a day, depending on the phase of the moon. I've never thought about trying my own cum yet... Maybe I should! Can you try it? Sure, whenever you want!
Q. You are Kristen's hottest model. When are you going to make another film with him? I hope it's soon. Have you worked with other studios?
A. Thanks for the compliments. I have only worked for one production company ... the best one! Hopefully, I will be making another video with Kristen soon.
Q. In real life, are you gay, bisexual or straight?
A. Who knows? It all depends on the weather, and whatever else is going on at the moment.
Q. Do you like to bottom? The scene you bottomed in is hot! I love your ass... I explode with horniness when I imagine you and Mauro Amaral fucking each other. He's also really hot!
A. I guess that depends on who I am with and the situation. You're right about Mauro, he is really sexy. Maybe we'll fuck each other next time!
Q. Are you married? How old are you?
A. Yes, I have been married for a year, and I have a baby son. I'm turning 29 this year.
Q. Claudio, I think you were absolutely fabulous in your videos. Please make some more for Kristen. Also can I ask a big favour? Can you try to bottom again? I know in MYSTERY MEN it looked really painful but you are just so gorgeous, I want to imagine you as a bottom again.
A. I'm very glad you enjoyed my videos. Right now I'm facing some obstacles in my personal life. Once I get through that, I will think about your request.
Q. Claudio, I'm completely mad about you. I asked Kristen about you several times, and finally you've reappeared. What's your date of birth?
A. Thankyou. I was born on July 17th 1970.
Q. Have you ever hustled?
A. In past, I've been in some difficult circumstances, and I have almost done that. Luckily I never really had to though. But, for the right price who knows... Let's talk!
Q. Do you prefer to top or to bottom?
A. I prefer to top, by a long shot!
Q. I would like tom know if you were still a virgin when you were fucked by Fernando Leite in MYSTERY MEN. How can I contact you? I'd love to be able to trick with you. A huge kiss from your fan.
A. No, I wasn't... but then, maybe I was... in any case I was tight! To hook up with me, look for me in my next video!
Q. Have you ever tasted other men's cum? Do you usually cum in other people's mouths? Excuse the indiscretion, but I'm crazy about cum... and about you too!
A. No, that's something that's too dangerous to try, but if others want to taste the flavor of my cum, that's no problem.
Q. You are very beautiful, and my husband and I are crazy about your performance! I've heard that you're a father; congratulations! I'd like to know if you've ever had sex with couples? How was it? Did you have sex with both of them, or just with the woman? Describe everything, please!
A. Thanks for calling me beautiful, and for congratulating me about my son. I did have sex for a couple once. The husband wanted to watch me fuck his wife. I wanted him to participate more, but he didn't want to...
Q. What level of studies did you complete?
A. I graduated from high school.
Q. What is your height, weight, and penis size?
A. I'm 5'10", I weigh 175 lbs, and my dick is 7". In centimeters that's 1.75cm, 75kg, and 17cm.
Q. When was the first time you had sex with a man and with a woman?
A. I was 18 the first time I was with a woman, and 19 the first time I was with another man. Excuse me if I'm not more detailed in my answers; I've never been asked these kind of question, and I'm shy about talking about all this.
Q. Claudio, you are one of the sexiest and handsomest men around. Has making videos for Kristen affected your life at all?
A. Thanks a lot, do you really think so? I have been told that before. Actually, sometimes I turn myself on looking in the mirror! Nothing bad has happened resulted from my having made videos... and they haven't really changed my life at all.
Q. You are one of the most attractive and sexy men I have ever seen. Do you ever watch your own videos? If so, do they get you hot? Who was your favorite model to work with? What is your favorite sex act?
A. To tell you the truth, I've never seen any of the videos I've made. My favorite costar was Fernando Leite. we got along really well together. And my favorite sex act is fucking.
Q. Have you ever attempted to take 2 pricks up your ass?
A. No, I have never tried it, but it sounds really painful!
Q. Do you think coming inside your partner is more fulfilling than pulling out and jacking off to a climax?
A. Of course it is. The sensation is more exciting and fulfilling.
Q. Claudio, what do you enjoy more, rimming your partner or getting your ass eaten? You have one of the most luscious bubblebutts I've seen in a long time...
A. On behalf of my butt and I, we thank you. As for rimming and getting rimmed, both ways are equally fun!
Q. You have one of the most beautiful bottoms around. Are you more a top or a bottom? I like watching you either way. Are you versatile in your private life? How do you keep your bubble butt in such good shape?
A. Sometimes I'm versatile. It all depends on the time, and the place. To keep my butt looking good I run daily on the soft sand at the beach, and I work them out at the gym twice a week.
Q. You're the cutest KB model ever! I loved your work in AMAZON ADVENTURE. You looked so hot in and out of uniform... please say YES to doing another movie. I'd like to see you as a commando again. Do you have any preferences for themes in a video?
A. Yeah, I like anything that has action and adventure in it. I'd like to try doing a video as a sailor sometime.
Q. What was it like to have sex with Mauro Amaral? What was it like to work with him? I would love to see you two fucking each other!
A. It was great! Mauro is a fantastic guy. He was one of the best people to work with. Maybe Mauro and I will get to fuck each other in a video sometime in the future.
Q. I think you're very cute and sexy. I also like hairy men, so if you ever do any more still photos or videos, please consider letting your body hair grow out; it will be VERY sexy!
A. Thanks for the compliments. I will take your request into consideration.
Q. Your cock is gorgeous. If you met the right guy and if he asked you to get circumcised would you do it?
A. Maybe if I was really in love..., but then I can't imagine anyone who wants me to cut off part of my dick being Mr. Right.
Q. Claudio, which of the three videos you've done for Kristen; MYSTERY MEN, THE CARACAS ADVENTURE, and AMAZON ADVENTURE did you like the best and why? I have to admit that I like you best in AMAZON ADVENTURE as I love your hairy chest and it isn't clipped in that video; but I think you are great in all of them.
A. My favorite video to make was AMAZON ADVENTURE. That's because it was in the jungle, and there was a lot of action in the story.
Q. What do you of bondage theme? Why don't you try acting in such theme...... I assure that you will be very sexy tied to the ceiling, being flogged, etc.
A. Thanks a lot, but I have never considered that. If you like to be tied up and whipped, that's fine with me by me... but that's not what I'm into at all!
Q. Hi Claudio, I am circumcised. I wanted to know do you wish you were?
A. I have never thought about that. No, I don't think I would...
Q. I wanted to know what you wear to bed, briefs, boxers? I just wish I could meet a man as sexy and handsome as yourself. I bet you smell good. Thanks for the video images.
A. Thanks. I wear boxers to bed, briefs are too tight. I don't know if I smell good, but I make an effort to not smell bad!
Q. What was it like to get fucked the first time? Was it really in the video, or had you already done some fucking around with friends when you were a kid? After the initial pain, did you end up enjoying it?
A. I got fucked for the first time when I was 18. It was quite painful, and not a pleasant experience.
Q. Do you like to suck dick?
A. Sure, it's better than ice cream!
Q. What do you like to do with another man in bed? What do you like him to do to you?
A. Everything is possible... It all depends on the moment and the person I'm with.
Q. I think you have a wonderful ass, and that you should use it more often. Who wouldn't want to fuck a bubble butt like that?
A. Thanks, I will think about your request.
Q. How often do you shave or trim your pubic hair? Do you let it grow out when you are not filming?
A. I trim it pretty often, even when we're not filming. For AMAZON ADVENTURE, Kristen asked me to let my body hair grow... For me it was a little uncomfortable, especially the facial hair.
Q. What male celebrity turns you on?
A. Sylvester Stallone.
Q. I saw AMAZON ADVENTURE for the first time today and I have to say that you stole the show. I jerked off over you 3 times in row. Its refreshing to see men that don't wax their chests. Personally I find chest hair a turn on. I now have to go and buy ALL of the videos that you are in. I hear that you bottom in one of them. That should be a treat. If you are ever in Australia, look me up... Love your work big guy!
A. Thanks a lot, keep watching my films, that will make me happy. I would live to meet you in Australia... Maybe one day.
Q. Claudio, I prefer you with a hairy chest. It must be great to suck your tits!
A. Thanks. It seems that a lot of guys prefer it like that.
Q. What's the best thing that ever happened to you? What's the worst thing?
A. The best thing was being able to travel and see the world. The worst thing was when I was hitch hiking once, and was left on an abandoned country road in the middle of the night.
Q. If you could be another person, who would you choose to be?
A. I would be Julius Caesar, because he was one of the world's great kings. He controlled all of Rome. I would love to have that power.
Q. Do your family and friends know about your video work? What do they think?
A. No, no one knows about that. If I told them, it would be the end of the line for me.