Interview with: Ned McCabe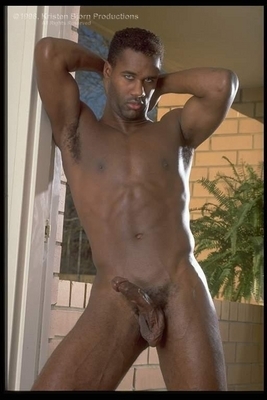 Q. I just want to say that I personally wrote Kristen and requested that someone of color could be interviewed on this forum. I'm glad that you were picked. I think you, and other black males in general are gorgeous and well-hung. I was wanting to know, do you prefer to top or bottom and do you enjoy having sex with other black men or do you prefer other races?
A. First, let me say thank you for the compliment. It's nice to hear that black is beautiful, especially from your fans. To answer your question, I love sex, top and bottom. For me, sex does not have a color, however my eyes usually seek out ghetto style black boyz and Latino papis, along with some urban street-style white boyz as a fringe benefit.
Q. I just wanted to say that I think you are so hot. What I really want to know is how big is that beautiful cock of yours?
A. My cock fluctuates between 8 1/2 to 9 inches, depending on how horny I am at the time.
Q. I like the shower scene you had with Blue Vainer in one of Kristen's earlier movies, MANLY BEACH. The scene is "classic Kristen Bjorn". When Kristen puts it on DVD, I will buy it because of that scene. Do you remember the scene and movie I am talking about? You and Blue Vainer were great. Blue comes across as an all Australian boy. What was he like to work with?
A. I have received so many compliments about that shower scene, as well as our little romp on that rocky beach. What made our scene so steamy was the fact that Blue was my estranged lover at the time. We were living together, but not having sex at home because we were both seeing girls on the side. MANLY BEACH was the first time in two months that we had sex with each other..., it was also the last time we ever had sex with each other. To much hurt had passed between us, so we went all out sexually in MANLY BEACH because we loved each other. We knew that it was the last hurrah.
Q. Why do you think there is a lack of black porn in general?
A. I believe that most porn film makers do not have their fingers on the pulse of their audience. The whole concept of being homosexual has evolved into something more urban and multicultural. But many film makers are stuck in the segregated mindset of the 1980's.
Q. A very large number of Kristen's models consider themselves hetero or bi, but perform great on his all-male videos. How do you feel about this?
A. All men are capable of having sex with both women and men, and enjoying the experience. It goes back to that X and Y chromosome thing.
Q. Would you suggest handsome extra hung men (blacks, white, Latino etc) to take advantage of their 'equipment' and try adult modeling (w/ Kristen or others, even on hetero videos)?
A. It's not for everyone, there are potential repercussions. Only the few and the proud need apply!
Q. Do you have any group sex fantasy (hetero, bi and/or all-male)? What are they? How many persons are in them? Are they cut or uncut men? Which do you prefer?
A. I try to live out my fantasies. I like three people, one hot black boy behind me, and a sexy Latino papi in front on the bottom, with me as the meat in the sandwich. The players can change from male to female, or from white to black to Latin at any time.
Q. I think that you are very hot and sexy. I was wondering where are you originally from, where are you living now?
A. My dad is Brazilian, and my mother is Jamaican. I grew up in the England. I now live and love in Miami Beach.
Q. Are you gay or bi, and when was your first gay experience?
A. I like both men and women. My first gay experience was when I was 21 years old. That is, if you don't count me playing with my neighbor's dick when I was nine, and he was 10!
Q. Have you ever been with women sexually?
A. Frequently.
Q. What made you start doing porn?
A. I met Kristen's boyfriend while I was modeling in Australia. He convinced me that his photographer boyfriend would be a good hook up for me. I did not know who Kristen Bjorn was at the time. Kristen photographed me in the nude, and he is very persuasive when he wants something. Kristen convinced me to perform in his upcoming film. Did I mention that the pay was great?
Q. Do you have a boyfriend?
A. Yeah, a hot Latin papi! He is sitting next to me now.
Q. Who do you think is the sexiest black Kristen model, and sexiest white or Hispanic Kristen model?
A. I don't like to classify people by race. But that being said; my favorite black model would be Caio Amaral, and my favorite Latin model is Roberto Almeida.
Q. Ned, I think that you are very sexy; however, I have not seen you in too many of Kristen's videos. I wrote and asked Kristen would he ever do an all black video, set in an exotic location such as Egypt, Kenya, Haiti, etc., but he said that he doesn't know that many black models he would like to work with and put in the video. I personally thought that was a racist remark. Do you think there is a lack of black males in the porn business, and if so, why do you think that is?
A. Thanks for the compliment. Good idea for location and concept; that would be so exotic and erotic, just like black people are by nature! I know Kristen on a business and personal level, he is not swinging on the racist trip. He only dates black men and Latinos as far as I know. I do not believe there is a shortage of black males in the porn industry. I do however believe that black models are misrepresented in the porn industry by cheap, white film makers who shoot ghetto fantasy scenes in their movies, thereby reinforcing the stereotype. I would like a more realistic, yet upmarket look at the black sexual experience. Think; Kristen Bjorn meets Latino Fan Club.
Q. I'm a great fan of KB videos from Germany. I watched the two videos that you made with Kristen, A SAILOR IN SYDNEY and MANLY BEACH. I think that you were very sexy, especially in the shower scene with Blue Vanier. You have a wonderful body and your sex acting performance was very convincing and exciting. I very much liked the intensity in the shower scene in MANLY BEACH. It's also the looks in your beautiful eyes that go to the core. I think many white gay guys wish to have sex with black men. So do I. I wished you would be the one I could have sex with. I would like to ask what do you like in having sex with men: kissing, rimming, fucking, getting fucked?
A. The sex scene in MANLY BEACH was not acting, it was real. I only have one rule when it comes to sex; no hitting.
Q. Do you prefer group scenes like in SAILOR or couple scenes like in MANLY BEACH?
A. The group scenes are difficult because of the many distractions. I love to give all my energy to one person.
Q. What was your reaction when you were asked to perform in a porn video?
A. My dick got hard!
Q. Did you perform in other videos for other companies?
A. Only for the best, Kristen Bjorn.
Q. How is your life nowadays, seven, eight years after having made porn videos with Kristen?
A. Fantastic, I have a beautiful Latino boyfriend, my beautiful apartment, I travel internationally as a fashion model, and I am a photographer. Check out my website www.choclatino.com
Q. Do you intend to come back for making new videos?
A. Never say never!
Q. Do your friends and family know about your video work? What is their reaction? Have you had any problems with relationships (boyfriends or girlfriends) as a result of your video work?
A. Everything was perfect, until the pianist at my mother's church saw me on the big screen getting fucked by Blue Vainer! Now, my life and relationships are all founded on honesty and unconditional acceptance.
Q. If you could film a scene now with any porn star in the world, who would you pick?
A. I would choose my boyfriend instead, and do exactly what we did last night.
Q. Can you describe your ideal man? What part of the man's body is your favorite?
A. My ideal man is looking at me right now. He is steamy and sexy, and he's in love with my essence. My favorite body part is the ass, with the eyes coming in at a strong second. Oh yeah, did I forget to mention the lips and nipples?
Q. What is it like to make a Kristen Bjorn video? Is it as much work as everyone says?
A. It's long and hard! The good part is that you get to cum three or four times.
Q. What is the best thing that ever happened to you? What is the worst thing?
A. Being hugged by my father is the best thing that ever happened to me. Not being hugged by my father is the worst.
Q. Are you in a relationship now? Can you tell us about him?
A. Yes I am. He is similar to me. He is honest and intelligent, and incredible to look at. He is also a total fucking freak in the bed, on the floor, in the bathtub, on a table, or in the car!
Q. Is there anything about you which isn't apparent in the videos that you would like your fans to know? Not only am I sexual, I am emotional, mental, spiritual, and athletic.
A.
Q. Ned, you really are one sexy dude! When was the first time you had sex with another guy? How was that? When was the last time you had sex with another guy, and how was that?
A. I was 21 years old. I traumatized his ass. I did not mean to, but I thought that fucking an ass was like fucking a pussy. I know better now. The last time I had sex was about an hour and a half ago; it was ferocious! I also traumatized his ass!
Q. What was the wildest sex you've ever had?
A. I was driving my Jeep from Los Angeles to Palms Springs, California with a friend. We took a wrong turn, and ended up lost on a dirt road in the middle of the desert. The sun went down, and the night was pitch black. My friend started touching my dick, so I stopped the car. All you could hear were strange animal noises! We were king of scares, but the sex was amazing. The sun rose, and we discovered that we were about 1/2 mile from the road, in the middle of the desert.
Q. What are some of you interests and hobbies (aside from sex, that is!)?
A. Tennis, basketball, poetry, and travel.
Q. Have you traveled much? Which are your favorite places?
A. I love travel. Over all, Australia is definitely up there for favorite places visited. For architecture and sheer beauty, Barcelona, Spain. For nice people, Venezuela. For sexy people, it is a tie between Puerto Rico, the Dominican Republic, and Greece. For cool attitudes, Amsterdam. For places to live, nothing beats Miami, and/or New York.
Q. What kind of music do you like?
A. Hip hop, house music, and alternative black music like Lenny Kravitz and Tracy Chapman. My favorite artist of all is Prince. I also love gospel in an Aretha Franklin, Patti La Belle kind of way.
Q. How many times a day are you able to cum? What's your record so far?
A. Usually once a day. Sometimes I go for three days without cumming. Other times I cum twice a day. My record is six times.
Q. What do you consider your greatest asset? What do you consider your greatest failing?
A. I am very adaptable to any situation and all types of people. I really do not believe I have any failings, however I have been known to lose interest in boring situations. I have no patience.
Q. What kind of underwear do you like to wear?
A. Boxers.
Q. Do you like rimming? Do you like to be rimmed?
A. I like all sex if it's good.
Q. Do people on the street often recognize you from the videos? How does that feel?
A. Yes, it used to make me feel uncomfortable, because I was ashamed of what I had done. Now I accept and appreciate the whole Kristen Bjorn experience.
Q. What is the best thing that ever happened to you? What was the worst thing?
A. My first trip to Australia was definitely the best. Not finishing college with less than half a year to go was the worst.
Q. If you could have 3 wishes come true, what would you wish for?
A. Eternal peace, health, and the love I feel for my boy right now lasts forever.