Interview with: Sergio Del Castillo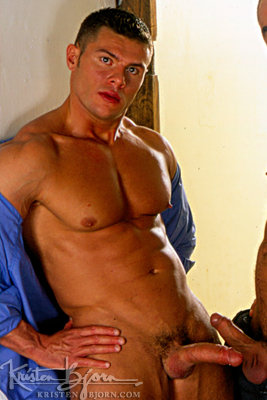 Q.
A.
Q. Hi Sergio, what is your star sign and what year were you born?
A. I'm Libra, I was born in 1972
Q. When did you start working Kristen Bjorn?
A. I started working for Kristen in April 2002.
Q. When was the first time you got fucked or fucked another guy? Did you enjoy it, or wasn't it what you were expecting?
A. I was 18 years old when I first fucked someone, and got fucked at the same time. Yes, I liked it!
Q. What kind of underwear do you wear during the day, on a date, in bed?
A. I wear Calvin Klein briefs at all time, except in bed, I sleep naked.
Q. Hi, I'm from Indonesia. Every time I see your picture it kind of turns me on. God, you're HOT. What inspired you to join Kristen?
A. I'm glad to be able to turn on the people who see me, that excites me! I was referred to Kristen through a friend, Daniel Jimenez, who also works with Kristen.
Q. Hi, what is your favourite gay movie?
A. I don't remember the title, It's a Titan video though.
Q. Can you tell us about the most perfect fuck you ever had? time, partner, place?
A. It was with my lover when we met four years ago. It happened at his place. It was a long, wild wild night, and we did everything possible!
Q. Who is your favorite porn star you've worked with so far?
A. Matthiu Costa. He's a great kisser and fucker, he's also a very nice guy. I especially liked being fucked by him!
Q. Would you ever like to direct porn a film?
A. Yes, I would. I think it would be a turn on to direct guys having sex.
Q. Do you enjoy frottage or nipple play?
A. I like frottage, but not nipple play, my nipples aren't sensitive.
Q. Hello. I'm from the Philippines. Just want ask what is your dick size? How many times can you masturbate in a day?
A. It's 8 inches. I can masturbate about 3 times per day.
Q. Hi Sergio, are you mainly top or also a bottom?
A. I'm completely versatile.
Q. Hi Sergio.. I know this is a boring question, but I want to know the answer. Do you enjoy sleeping naked? I think it's kind of of sexy. What do you think?
A. I think the same way, and I always sleep naked.
Q. Hi from Asia. Do you like to get your ass fucked or your ass played with? I also wonder if you like dildos or other sex toys?
A. I like getting fucked, but by dicks, not dildos.
Q. What is the biggest cock you ever took? What is the biggest cock you ever sucked?
A. It was a black guy I met with a 15 inch dick, but it was even thicker than it was long.
Q. Have you ever tasted or swallowed your own cum or a partners cum? Do you like the taste?
A. I have done it with special partners long ago, and I enjoyed it. But I wouldn't do it with just anyone.
Q. Would you ever consider doing bareback videos? Have you ever tried fucking or getting fucked without a condom?
A. No, I wouldn't make bareback videos, because it's dangerous. I have been fucked and been fucked without condoms, but only with my lover.
Q. How man times can you cum during a sexual encounter? How much is the most times you've cum in a day?
A. My record is five times for both.
Q. What is your favorite sport? How do you keep in such good shape?
A. My favorite sport is bodybuilding, and that's also what I practice to stay in shape.
Q. Hey Sergio, in the scene with Matthieu Costa it looked amazing, please tell me every single detail. Did you get along? Did you have sex off camera?
A. It was fantastic! We complimented each other very well, and the sex felt as hot as it looked! We didn't have sex off camera though.
Q. Hola Sergio! I'd like to know if you've ever been double penetrated. Have you been fisted or pissed on? Would you try any of that someday?
A. Yes, I have been double penetrated. It was an unforgettable experience! I've never been fisted or pissed on, nor would I like to try it.
Q. How many sexual partners have you had in your life? How man men? How many women? What's your opinion of faithfulness?
A. Maybe 1,000 or more men, who keeps track? I've also been with women too, but that was before I was 18. After I started having sex with men, I never had sex with women again.
Q. What type of swimwear do you use when you go to the beach?
A. I wear use Speedos.
Q. Hi Sergio, I enjoyed MEN AMONGST THE RUINS. do you like to have your butt eaten?
A. Yes, of course I do. It's one of the things I enjoy the most.
Q. Did you have a good time in that scene? You have a beautiful butt. Do you like to have your feet licked and your toes sucked? Keep up the good work.
A. Yes, I had a great time. I like having my feet licked and sucked depending on the moment.
Q. Hi Sergio, great scene debut! What's your wildest sexual fantasy? Keep working with Kristen!
A. Thanks a lot. I like to hear positive feedback, it helps me to continue making more videos. My wildest fantasy is to have an orgy in a gym with 10 hot muscle men, from all different races. I hope I can make it happen one day.
Q. Sergio, Hi from Spain. Do your family and friends know you've done gay porn?
A. My friends do know about it, but my family doesn't.
Q. Congratulations on your scene in Men Amongst Ruins. Which did you prefer: fucking Matthieu Costa, or getting fucked?
A. I liked doing both things equally.
Q. What does the design on your tattoo mean?
A. It's a unicorn for good luck.
Q. Would you ever like to fuck a celebrity? Who? Another porn star you haven't worked with? Who?
A. Sure, I'd love to spend a night doing everything with Brad Pitt. I'd also love to fuck with porno star Marco Rossi.
Q. Hi, I've watched scenes in MEN AMONGST THE RUIN and I think you're a seriously hot guy! What kind of guy do you find attractive? What would constitute a perfect date?
A. I like handsome, muscle guys who are also sexy. A perfect date for me would be a nice dinner out, and then hot sex in bed.
Q. Have you ever worked with anyone other than Kristen Bjorn, and do you have any other movie coming? I can't wait...
A. I haven't worked for anyone else but Kristen. My newest video PARASHOOTER has just been released.
Q. I noticed in Men Amongst Ruins that you are circumcised. I was surprised. Is that common Spain? Do you wish you are not circumcised. Was it for health reasons? Do you prefer circumcised or uncircumcised men?
A. Circumcision isn't so uncommon in Spain. I was circumcised when I was twelve because my foreskin didn't retract, and it was painful. I have no preferences as to the status of my partners.
Q. Hi Sergio, you have an incredibly great body! how do you keep in such good shape - diet, exercise routine? Have you ever had any "encounters" at the gym with another really fit muscular guy? details please!?
A. I have a regular exercise routine and a special high protein, low fat diet. Unfortunately I haven't had any sexual encounters at the gym, but it's one of my fantasies.
Q. Do you have a really strong erogenous zone that really turn you on when you are having sex? Do you like rimming or getting rimmed?
A. My most erogenous zone is my dick. I like rimming and getting rimmed equally.
Q. Hi Sergio I'm from Indonesia. I thought I'd give unique question. When you die, what line do you want put on your tombstone? Mine's going to say "Daniel Lockhart, Proud to be Gay"
A. I think I'll just have them put my name and date, that's all.
Q. Hi Sergio. You're a really hot guy! What item of clothing do you think feels real sexy, and what item of clothing do you think looks real sexy on another guy? Looking forward seeing lots films!
A. Thanks. A tight T-shirt is what I find most sexy.