Interview with: Joao Pauzao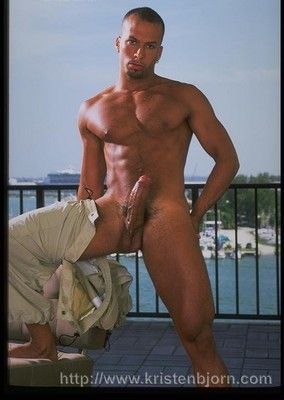 Q. Your rimming scene with Jose Gonzalez in A World of Men was truly wonderful. How did you get to be so sexy?
A. Thank you. Rimming is one of my favorite things to do! And about being sexy, I guess it just comes naturally to me.
Q. Who was your favorite costar?
A. That would be a toss up between Lajos Czene and Julio Duran in the scene I just finished with them both.
Q. I have seen you in A World of Men and Hot Times in Little Havana and I think you are a real hot guy. You have a beautiful body; can you tell me about your workout routine?
A. When you see me again, you'll be surprised! I have put on a lot of muscle since my last video. I train regularly with weights, and I also dance a lot.
Q. Are you from Brazil? If so whereabouts?
A. Yes, I'm from the state of Minas Gerais.
Q. What kind of underwear do you like to wear?
A. I wear white briefs, usually Calvin Kleins.
Q. What's your birth sign or birth date and how old are you?
A. I'm 24 years old, and my sign is Scorpio, the sign of sex!
Q. Hey, I think you're the best! I love your scene with the older guy and A World of Men. Tell me the truth: I saw you in a scene of the last video you appeared with a black guy. Is his cock bigger than yours? I don't think so! You're my dream! Tell me you like man to man action please! How big is your cock?
A. Thank you. You're very curious, aren't you!? To begin with, my cock is bigger than Jadson Pirocao's. And yes, I do love man to man action. My dick measure about 11", and is very thick.
Q. Your scene in Hot Times in Little Havana with Jadson Pirocao and Antonio DiMarco was real hot. How long did it take to shoot - I mean all the scenes and your load each time?
A. It took four days to shoot that scene.
Q. How long after you cum must you wait before you can cum again?
A. It depends on how turned on I am. But, when I'm really into it, I'd say about 10 minutes.
Q. Are you gay or straight and do you have a lover?
A. No, I'm not gay... But my boyfriend is! Just kidding! Yeah, I'm gay, and I'm going out with someone right now. It's not too serious yet, but we'll see what happens.
Q. Are you always a top or can you bottom too? I'd like to see you get fucked.
A. Well you'll have to wait a LONG time to see that! I do not get fucked, I'm only a top.
Q. In my Portuguese dictionary (Novo Michaelis) I can find 'plowboy' is moço do arado. So how do you say 'I wanna plow you' in Portuguese Can you tell me how to say other words such as fuck, ass, butt, cock and cum?
A. The term "moço do arado" in Portuguese doesn't have the same double meaning it has in English. As for the other words you asked about, they are: fuck: fuder, asshole: cu, butt: bunda, cock: pau, and cum: porra.
Q. How many times a day do you like to work that fantastic cock? How many times a day do you cum?
A. I like to cum at least three times a day.
Q. How do you feel when working with other hung men?
A. It doesn't bother me. I'm not really into dick size myself. What I like to see on other guys is a nice firm, round butt!
Q. If you were to direct your own porno scene, how many men do you think is enough?
A. I think that I would keep it at just two. But they'd have to be the right two!
Q. Do you think other hung men like you in Brazil should try porn - like you did - as a temporary job?
A. Not everyone in Brazil is well hung, you know. We have all types. I think that anyone who wants to make porn should try it, regardless of where they come from.
Q. I think you're incredibly sexy! Are you gay? If so, what kind of men turn YOU on?
A. What I really like are blond white guys, with big, muscular butts!
Q. Can you tell us a little about what your life is like? What is your favorite food? Who are your favorite Brazilian recording stars?
A. I work as a go-go dancer at several different discotheques, so I'm mostly a night person. I try to live a healthy life, though. I don't drink, smoke, take drugs, or have sex ...Well, three out of four isn't bad, right?! My favorite food is rice and beans, and my favorite Brazilian recording artists are Maria Betania, Caetano Veloso, and Melinha. But I don't really listen to a lot of Brazilian music, I prefer international music. I'm close to my family, and they know everything about me. My mother even has a copy of Inches magazine with my pictures in it! I have a six year old son in Brazil, and I try to help him and his mother out whenever I can.
Q. When did you first realize that your dick was bigger than most?
A. When I was about 10 years old.
Q. What do you think about when you are plowing a hot butt?
A. What do I think about? Well, I think about the hot butt that I'm plowing! What else?
Q. What do you like to do most with your partner, both in movies and in real life?
A. I like to fuck them silly until they can't stand up! Then, I like to fuck them again!
Q. What fantasy would you most like to act out?
A. Something with uniforms... They really turn me on!
Q. Who is your favorite guy or have you not met him yet?
A. My favorite guy is the one who I am dating right now.
Q. What's your opinion of guys with tattoos or body piercing? Would you consider having anything done to adorn that already fantastic body?
A. I've seen some tattoos and piercings that I though looked good, but I wouldn't have anything like that done to myself. I'm really not into pain!
Q. Do you prefer one to one action in your scenes or do you like 3 or more guys to have fun with?
A. I like it one to one, three to one, five times five... Hell, I like it all!
Q. I love your work and that enormous cock! How big is it - how long and how round?
A. It's funny, I don't think of my dick as being so big. For me, it's normal. Just how big around is it? I don't know; I guess you'll just have to put it in your mouth to find out for sure, huh?
Q. Do you shave your balls and ass when you are not working on a movie? Do you prefer to be shaved or have hair?
A. I never shave my body, I prefer to keep my body hair clipped, though.
Q. You're one of the hottest men I have ever seen! I can't wait to see you in your next video. When will that be?
A. I just finished making a new one with Kristen. I hope you will like it! I think it will be my best so far.
Q. When was your first sexual experience with another man, and what was it like? What was your last sexual experience (outside of video) like?
A. I was eighteen. Both that experience and my latest one were both good ones.
Q. Have you ever been in a relationship? How long? Are you in one now?
A. My longest relationship lasted 3 1/2 years. I'm sort of single right now, although I am dating someone.
Q. I want you to know that ever since the first time I saw you in A World of Men, I have fantasized about you and your huge dick more times than I can remember. My question is, can you easily find guys to fuck with that thing? Do they get scared when they see how big it is?
A. Luckily, there are plenty of guys that love to get fucked by big dicks like mine. But there have been a few who got scared and ran off.
Q. Tell me, do the other men in your family have dicks as big as yours? If so, how was it that you got to compare them hard with each other? Did you ever fool around with your big-dicked brothers or cousins when you where a kid?
A. Yes, my father and brothers all have bigger dicks than I do. In Brazil, we're not very shy about those things. I've seen them naked and hard plenty of times, but there was never any incest in my family.
Q. How do you enjoy French kissing with your co-stars? Does it help you keep a hard on? If you have the choice to select your co-star, whom do you like to kiss best?
A. It wouldn't be gentlemanly of me to kiss an tell, now would it?