Interview with: Jack Murphy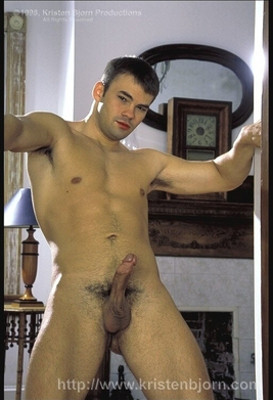 Q. In which year were you born, and what is your star sign? Do you think you are typical of that sign?
A. I was born in 1976, and I'm an Aries. I don't believe very much in astrology though.
Q. What job do you do when not filming hot movies with Kristen Bjorn?
A. I'm a fashion model, and I also work as a stripper at clubs in Italy and around Europe.
Q. Are you fond of FROTTAGE (rubbing) with equally built sex partners? And how about nipple play and especially deep French kissing? Do you think that they both arouse you and your partners at the highest point at the same time?
A. I'm not really into frottage, and my nipples aren't particularly sensitive, but I enjoy it having them licked. I really do love tongue kissing; it really turns me on!
Q. Max, What is your biggest sexual fantasy?
A. I have lived every sex fantasy I have ever had… There aren't any I haven't lived out yet. Whenever I have a new fantasy, I try to make it come true. One of my favorite things is to have group sex with beautiful men and women together. I like to see the hot bodies having sex with each other, and also with me!
Q. If you were directing yourself in a porn video what sort of scene would you put yourself in, and what would you have your fellow actor(s) do to you and you to them? Would you ever have gay sex bareback?
A. I'd like to direct a bisexual scene where all the men are both tops and bottoms, and the women can be butt fucked as well as pussy fucked. I wouldn't have bareback sex, because it's too dangerous.
Q. Are you thinking of getting fucked in your next video?
A. Yes, I enjoy new experiences, and I have already done that. In my next release you will see me get fucked by my fortunate co-star Slava Petrovich.
Q. What type of swimwear do you use when you go to the beach?
A. I only use Speedo style swimsuits because I think they're sexier than shorts or g-strings. There are some strippers who use g-strings when they perform, but I don't find it sexy at all.
Q. I love your photo-shoot, and notice that you'd shaved your pubes off. It looks really hot! Did you shave especially for the photo-shoot, or is that how you like to be?
A. I always prefer to be shaved everywhere, except my pubic hair, because it's sexier that way. I think that a man should have pubic hair… I shaved it off that one time for the photo shoot because the producer made me do it!
Q. What part of Italy are you from and how did you start in porn?
A. I'm originally from Venice. I was dancing in a club in Venice one night three years ago when I was discovered by an assistant of Lucas Kazan's. It was always my dream to make porno films, Lucas found me, but I was also looking for a way into the business. It was love at first sight!
Q. What underwear do you wear in the day, on a date, in bed?
A. I always use white Calvin Klein briefs during the day. But when I go out on a date anything could happen (and I already know what I want to happen!), so I never wear underwear because it just gets in the way of fucking!
Q. What's the best thing about doing porn, and what's the worst?
A. Making porno videos is my fantasy come true, so I enjoy everything about it. The work is always hard, but good things don't come easily.
Q. Have you worked for anyone other than Kristen Bjorn and was it very different?
A. I've also worked with Lucas Kazan. They each have a different style of directing; Lucas prefers romantic settings, and complex stories. He pairs me with young, boyish type costars…. Kristen's more into hard masculine sex action, and his models are more like me; muscular, masculine, tattooed studs.
Q. Who is the guy you most enjoyed working with, and who would you most want to?
A. My favorite costar is Antonio Armani. He's very sweet and professional.
Q. Do you use porno mags to turn you on during the scenes? Is it hard for you to keep an erection during the scenes?
A. Sure, all porno actors do. It's hard work, and we need some extra inspiration sometimes! I don't have a problem keeping hard on the set… I don't mind having people watching me… in fact it excites me! You have to be a real exhibitionist to make porno videos.
Q. Hey Max! I'm a big fan of yours, I can't wait to see you bottom in the next KB movie. I'd like to know how you discovered you were attracted to guys (in fact I don't know if you are, still...)? How did you discover anal pleasure? Do you sometimes play with your ass? How? Thanks for your replies, kisses!
A. I'm glad to hear that you're my fan! I discovered my attraction to other guys when I was 17 years old. I was watching a porno video with older friend. I liked what I saw, and I got an erection. He started touching me, and I didn't stop him. I first discovered anal pleasure when I was 22. I was having group sex with a girl and another guy; I fucked him while he fucked her…He fucked me while I fucked her… Everyone fucked everyone! I like to play with my ass when I jack off, and I really enjoy being rimmed!
Q. Hi Max , I'd like to know how often you masturbate. What do you think about most of the time when you do it? Have you ever used a dildo? If so, what was it like?
A. Of course I masturbate, every day! When I do it, I think about the things that excited me during the course of the day… I think about the hot bodies I saw on the street, in the gym, or at the beach. I think about fucking them! Yes I've used a dildo before, but I prefer the real thing!
Q. Hi Max , I would like to know which famous male you'd like to have sex with the most? Same question for famous female.
A. Actually, I can't think of any famous people I'd like to have sex with. It was never my fantasy to fuck the famous. For me, the idea of fucking a next-door neighbor is far more exciting than fucking a celebrity.
Q. What do you feel when you get fucked? Is your ass a sensitive area? Do you think you could cum without touching yourself, only with anal stimuli? You look great and your smile is definitely irresistible
A. When I get fucked, I feel pleasure from the start. My ass is very sensitive deep inside, around the prostate. I've never cum before only with anal stimulation, but I'd like to try it sometime. Thanks for saying I have an irresistible smile. Usually people compliment me on my body… I prefer your kind of compliment, because the others are always the same.
Q. I would first like to say I think you're a truly beautiful man. How often do you work out, and what is your diet?
A. Thank you very much. Actually, it's a lot of work to look like this. I workout 4 days a week at the gym. As for diet, I eat more protein than carbs. But I eat a bit of everything (sweets, fats, etc.) in moderation.
Q. What is your favorite part of a man's body?
A. His ass.
Q. What do you consider your best physical feature?
A. My hands.
Q. Does it turn you on knowing gay men all over the world are getting off sexually to your image?
A. Of course it does!
Q. Do you believe in honesty and truth?
A. Yes I do. I think truthfulness and sincerity are my best qualities.
Q. Do you ever watch yourself in porn?
A. Yes, I love watching my videos with my close friends!
Q. Are you, or have you been in love?
A. I'm not in love now, but I have been. But that was a few years ago.
Q. What is your favorite kind of music?
A. I listen to different kinds of music depending on my mood. When I go dancing, I like house music.
Q. Do your family and friends know that you do gay porn?
A. My videos are available to everyone… Anyone who wants to see them is free to do it. I don't hide them from anyone.
Q. What is your favorite food?
A. I like all kinds of red meat and chicken.
Q. I have a foot fetish, and you certainly have beautiful feet... What is your shoe size?
A. I wear size 11. Is that big enough for you?
Q. I'm in Vietnam and don't have too many chances to watch gay movies, but I have seen some, and I find you very handsome. Do you like to be top or bottom more? Have you ever been fucked by 2 guys at the same time? How did it feel? Did you like it?
A. Good morning Vietnam! I prefer being a top, and I have never been double fucked before, although I have double penetrated someone else! That was really great!
Q. How tall are you?
A. I'm 6', 3" (190 centimeters).
Q. How much do you weigh? What are your body measurements (arms, chest, waist, dick, etc.)?
A. I weigh 198 lbs (90 kilos). My dick is 10" (23 centimeters). I'm sorry, but I don't remember my other measurements.
Q. Are you in a long term relationship now, or are you playing the field? What sort of guys grab your attention?
A. I'm playing the field. I like guys who have a strong personality.
Q. What is your career goal? Are you a student? If so, what's your major?
A. My goal in life is to become a real man.
Q. I've only seen you in one video so far, UNDER THE BIG TOP, and I must say, you're quite stunning. With the exception of two others in UNDER THE BIG TOP, you steal the video! How was it working with the boss' partner? I hope to see more of you soon!
A. Working with Antonio Armani was great, just the same as working with other beautiful, sweet models.
Q. Do you make public appearances? Try not to get involved with a lesser quality video company; KB and his associates make the best there is!
A. I started doing strip shows when I was 18 years old (almost 10 years ago!), but I've never made public appearances as a porno star.
Q. Firstly, you're amazing in BONE ISLAND. You make the perfect fantasy cop in a type of scene I've been waiting a long time for Kristen to make. It's great that someone of your calibre took on this persona, and I'm blown away by your stamina and cumshots! Did you enjoy wearing the uniform?
A. Yes I did. I've always found policemen very sexy!
Q. I really get off seeing guys wearing just gloves and boots… Was this a turn-on for you too?
A. Sorry, I don't like boots on a naked body, but I do like gloves! What I enjoyed most about that scene was wearing the handcuff on my dick! That was really a turn on!
Q. Would you like to do more uniform scenes in the future? (Make that 'please do more uniform scenes!')
A. Yes, I would. Maybe a sailor or fireman's uniform would be hot!
Q. Being Italian, are you a fan of my favorite male singer Eros Ramazzotti?
A. Of course I am. I think Eros Ramazzoti is one of the few Italian singers that keeps Italian music alive in the world. I think he has a beautiful voice.