Interview with: Lucien Fortier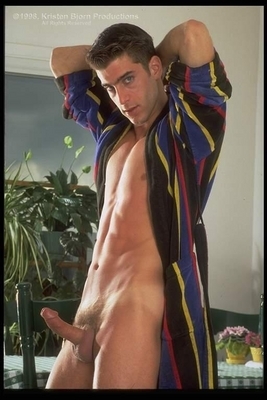 Q. You are one of my all time favorite models. Any chance you will work with Kristen again? What are you up to now? Sure would love to see you in action again.
A. I don't see why not, although I believe Kristen doesn't use the same models over and over again.
Q. What are you up to now? Sure would love to see you in action again.
A. I'm working as an Art Director for a publishing firm in L
Q. You know, you are a beautiful man! Do you prefer men or women?
A. I prefer men, but I enjoy women too, if they are the right type! I'm just less oral with women.
Q. Have you ever swallowed another man's cum?
A. Yes.
Q. When you're with men, do you prefer to be top or bottom?
A. Lately, a top. It varies over the years.
Q. You are great, absolutely great! I am certainly your biggest fan. I enjoy you very much in CALL OF THE WILD, The "cousins" scene is my favourite one. How do you prepare for getting fucked? Please, please give me an answer. That would mean very much to me! Thanks.
A. Thankyou! You just open your eyes and your senses, and enjoy the ride...
Q. Bon soir Claude (or Lucien, whichever you go by now). I remember the first time I saw you in MONTREAL MEN. It was like a firecracker went off in my cock. Also you were very HOT in CALL OF THE WILD. How did you get discovered by Kristen Bjorn?
A. While he was filming in Montreal, one of his models / helpers (Pierre LaBranche) spotted me while I was go-go dancing in bars, and asked me to interview with Kristen. The rest is history!
Q. What was the first time filming like for you? Were you a natural sex pig?
A. I wouldn't say so. It was cool on the set, because Kristen is a one man band, so the shyness level was low. But still you're dealing with lights and a camera, and because of Kristen's artistry, some positions were new or intricate, when three were involved. I remember vividly saying to myself while filming "I'd never have sex in this position", but when I saw the finished product, I was blown away at how good it looked.
Q. In CALL OF THE WILD you got sprayed a couple of times in the mouth with cum. Did you plan on eating the cum or did your costar cum unexpectedly? Do you normally eat another guys' cum?
A. I think it was all unexpected. No, I don't normally eat another guys' cum.
Q. Who was that blond cute guy in CALL OF THE WILD with you?
A. I think you're referring to Guy Trembley. He was the only blond I worked with in that video.
Q. I haven't seen you lately in any videos. Have you stopped making them?
A. My last video was shot in the summer of 1995 in Montreal for a European company. For the moment, I am working on other endeavors.
Q. What do you do when you are not being a totally hot fuck starring in videos?
A. I'm an Art director / graphic design, I specialize in magazines. Now I want to move to web design.
Q. Where do you live now? I know you are Canadian, and I have passed by you on the street a couple of times in Toronto. By the way you are just as hot in person.
A. Thank you. I've escaped from the land of snow and ice, and now I'm in Los Angeles, worshipping the sun!
Q. What was the hottest sex you ever had? Have you ever been part of an orgy? Describe it in detail.
A. The best sex I had was probably with my last boyfriend Matt. I've been in many orgies, and the best was in San Francisco in a private home; all the men there were hot and cool. It might be because it was my first orgy... Anyway, it was weird because at first, everyone had a white towel on, or was already naked, and nobody was doing anything. But you could see who was checking out who, and it was very exciting. Then the lights went down, and there was an opening number with a master and his slaves, and as soon as he finished his number, and said "Let the evening begin!", the ones who checked each other out went at it. My problem was that I had cruised 4 or 5 hot men, and I thought, "I can't split myself five ways!", Little did I know, a few minutes later the six of us were intertwined, and the rest is history. I came 5 times!
Q. I loved you in CALL OF THE WILD - you're soooooo sexy. How you part your lips to take a cock in your mouth! I know you have been out of the video scene for a while -- what are you up to these days? Any chances you'll return to the industry?
A. I'm an Art director / graphic design, I specialize in magazines. Now I want to move to web design. I never say never, but I doubt that I'll return to video work.
Q. In the "cousins" scene in CALL OF THE WILD, who is the guy who cums in your face? Did you enjoy that? Which are your other favorite sex practices?
A. That would be Serge Perrault. Yes, feeling the warmth of my partner's cum on my body, especially my chest (rather than my face), turns me on! My favorite sex practices vary, sometimes a good blow job will satisfy me, and other times I am like a fuck machine!
Q. Salut Lucien/Claude, I'm a great fan of yours from Germany. I've watched the videos MONTREAL MEN and CALL OF THE WILD, and your performances were great. You are the kind of guy I like to watch in gay videos: tall, good looking, well built (not overdone). And you are such a gifted cocksucker and bottom. Another important thing for me is that you are able to transmit horny, sexual feelings to the viewer. It really feels like you are enjoying having sex with your partners in front of the camera. And your cumshots are extraordinary! What is your secret for shooting these fountains of cum?
A. It's funny, my first boyfriend shot loads like they were coming out from a gun! I thought that was so sexy... Then a couple years later I started doing the same thing! I don't know why, it just happened. Once, someone told me that nuts replenish your cum, and I eat a lot of peanut butter. Maybe that's the reason.
Q. How old are you? What did you do for a living before making videos?
A. I'm 37 now, I used to be a graphic designer. Now I've become a successful Art Director in publishing. In the future I want to move to web design.
Q. You also worked for other major studios. How was it like? What were the main differences in comparison to the work you've done for Kristen?
A. First, Kristen is a one man band. He takes roughly 4 days to shoot a scene, as opposed to 6 to 12 hours with the regular studios. It might sound stupid, but I think the difference is the way he envisions things; he's an artist, and of course a business man also. But he truly has a gift; he is able to create a real feeling in others for it. Perhaps it's because he is not pressed by time. It's different with Kristen, he goes out to locations, he travels, he's out there in the real world. I don't know, but I think he has what they call a passion.
Q. What was it like to work on and being fucked by Chris Champion's immense cock in "All American" (unfortunately we don't see much of your pleasures in the scene)?
A. It was not the best day of my life! It's my worst movie, and my name isn't even on the box! It was bad casting I think, and after that, I never wanted to work with straight actors again. Come on, how am I supposed to get aroused if the other guy has to look at girlie pictures to get hard?
Q. Salut Claude, I met you about 3 years ago at Wega video. I was sitting in a private booth watching a porn flick, you walked in and took out your dick and let me blow you. I'm not sure if you remember this but I wanted to thank you for making a fantasy come to life. I hope you are doing well and that you have a happy future. Please let me know if you remember this experience.
A. Oh my God! Yes, I do remember, I only did that once at Wega, and it was with you! Wow... I'm fine, and I wish you all the best.
Q. Do you have brothers and sisters? Does your family know about your video work? If so, what do they think?
A. I have 2 older brothers and one older sister. They know everything; I'm sure they didn't like it, but they respect me.
Q. Are you in a relationship right now? What does he or she think about your work?
A. No, I'm not in a relationship at the moment.
Q. Which video was your favorite one to make, and why? Which video was your least favorite one to make, and why?
A. True Stories was my favorite, because there was chemistry, we really did have the hots for each other. It just took three or four hours to shoot. All American has to be my least favorite because of the reason I mentioned earlier.
Q. What kind of men are you most attracted to?
A. I like rough, masculine type men, like the Marlborough Man.
Q. What is your favorite part of a man's body?
A. I would have to say, his dick, but I love to rest my head on his chest. That is, when I have a man...
Q. Have you had any bad repercussions because of your video work? Do you ever regret having made videos?
A. No not really... Well, maybe a little. I never made it into Playgirl except, except for the "Boy Next-door" or whatever. I don't have any regrets at all, I'm just not sure what I'm going to tell my nieces and nephews if and when they find out about it.
Q. What was your wildest sexual experience off camera?
A. It was a couple of escorts back in Toronto, Canada. They were a couple, a guy and a girl. What I didn't know was that the girl was also an escort, but very high end, she was sort of kept by the man, who wasn't that greatest looking. It was like she had never been fucked by a stud before, which I'm sure was not the case, as she was very, very pretty! But man, did she ever give me a ride! I've never felt so wanted as I did that night!
Q. How often do you masturbate? How often do you have sex with someone else?
A. I'd say that I masturbate once a day, and have sex with someone every weekend.
Q. When you guys do the movies, does Kristen make you guys prepare or anything? And how do you guys keep clean (i.e., rimming, fucking)?
A. We take a douche for that purpose.
Q. Is there anything about you, that's not apparent in the videos, that you that you would like your fans to know? What kind of things to you do for fun?
A. I like to travel. I like to go to some of the Circuit Parties, where I dance and flag the night away. I love to eat good food, which I miss being down here in the States.
Q. What is the best thing that ever happened to you? What is the worst thing?
A. The best would have to be when I was touring across the USA in major, and not so major cities, making appearances in gay bars, and signing autographs. It was as if I were a star... Well, I guess I was, even though I was just a porn star. But the high you get from what I call the "red carpet treatment" was something else! The worse thing would be having two surgeries for herniated disks in the neck. I guess I had taken it for granted that I would always be healthy and strong.
Q. What kind of dicks do you prefer (large, small, thick, thin, cut, uncut, etc.)?
A. Cut, medium size, but nice and hard ones.
Q. What do you consider to be your best feature? What do you consider to be your worst feature?
A. My eyes are my best feature. My ass is my worst; it's not very bubbly.
Q. You look gorgeous; eyes, smile, bod, attitude. What is your perfect type lover? And what about playing with nipples and kissing?
A. Thank you. The perfect lover for me is one who respects me, and accepts and forgives whatever life puts in front of me. I have a gold nipple ring now, the left one. I do feel aroused when my nipples are played with, but softly, I don't want to stretch them. Kissing? I'm French, so French kissing for me is an art form.