Interview with: Antonio Rico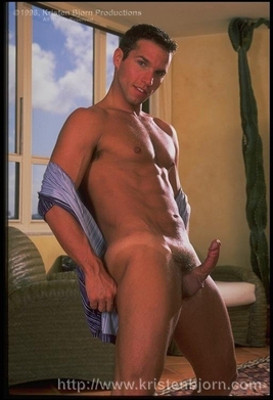 Q. If It was up to you when filming, would you participate in a group sex scene, or in a one-on-one scene?
A. I'm an exhibitionist, so group sex is kind of a fantasy to show off in front of others. However, I really like the one-on-one scenes, when it's with someone that I really click with, and want to focus my attention on.
Q. What's your group sex fantasy? How many men, how hung? Uncut or cut?
A. Skiing in the Alps, then getting in a hot tub with 4-5 hot guys. The size of their cocks doesn't really matter to me, if they're hot. If I had a preference, they would be cut, as opposed to uncut.
Q. What's your attitude to bisexuality? Have you had any bisexual fantasies?
A. Bisexuality has a lot of advantages...you have more choices! And there's nothing wrong with more choices. I consider myself gay, but if I see a hot couple, guy and girl, I've been known to take advantage of a hot fantasy.
Q. Would you scout for Kristen looking for extra hung models? What would you tell them about male modeling?
A. Sure I'd help scout.... Are you kidding? Who wouldn't? I'd tell the models that it isn't as easy as it looks...some of the positions are uncomfortable, and the shoots take four days to film 1 scene... However, when you see the finished product, it makes it all worth it! Kristen is a perfectionist and expects nothing less.
Q.You are one of the most beautiful Latin models I have seen. Are you completely gay, or bisexual?
A. Although I consider myself gay, I really don't like labels. I think it's more of an attraction to the person. If I see a hot girl and we click, I won't hesitate to do her.
Q. What's your nationality?
A. I'm of Cuban descent, born and raised in South Miami Beach...
Q. How big is your dick?
A. 7 1/2 inches... But, I make every inch count!
Q. In real life, are you a top or a bottom? Or do you enjoy both?
A. I would say I'm 90% top, and 10% bottom. I really enjoy top more because I'm very aggressive...
Q. Wouldn't you like to go out with a Puerto Rican, like me for example?
A. Well, maybe if I saw a picture of you
Q. Greetings from Brazil. Have you ever swallowed a man's cum? If so, what did you think of it?
A. Hi Brazil! Yes, I have tried it. I prefer to have a hot guy shoot all over my chest and face--that's a hot scene for me.
Q. When was you first sexual experience with another man?
A. Although I didn't know what sex was at the time, I was 9. My neighbor, who was 3 years older, sucked my dick, and I loved it...
Q. Which Kristen Bjorn model would you like to work with?
A. Wow, I have to pick just one? Kristen has always picked the hottest guys in the world...but if I had to choose, I would have to say Rogerio Proenca would be at the top of my list. Then again, Rezso Farkas, Alexei Gromoff or Adriano Marquez are up there as well...
Q. You are one of the most handsome of Kristen's many handsome models. And, you performance is sizzling! I'll leave it to others to ask all the personal sex-related questions. What is you favorite color?
A. I tend to like a lot of bright colors but I think blue would be my favorite...and yours?
Q. Which is your favorite cuisine?
A. That would have to be Latin food.
Q. Which is your favorite movie?
A. Well, I just saw Erin Brockovich and it was hysterical. I also saw Final Destination and it was scary like Scream was.
Q. Who are your favorite actors?
A. Sigourney Weaver, Sean Connery, Nieve Campbell and Chris Kline
Q. What was you favorite subject in school?
A. Does Phys Ed count?
Q. Who is your favorite author?
A. Stephen King...
Q. What is your favorite spectator sport?
A. Hockey...especially when they get into a good fight...
Q. Who is your favorite athlete?
A. Michelle Kwan...she shows so much determination and skill for such a young person.
Q. What is your favorite kind of music? Composer? Singer?
A. My first passion is dance/house music...anything high energy. But I also like my booty music. Funky Green Dogs is one of my favorite groups.
Q. Which places would you most like to visit?
A. Hawaii for sure. But I've never seen snow, so I would really like to visit the Swiss Alps.
Q. Which places that you have visited have you liked the most?
A. Atlanta was very cosmopolitan...I really enjoyed visiting. LA was a lot of fun also.
Q. What is your favorite thing to do to kick back and relax?
A. Believe it or not, hitting the steam room after a good workout.
Q. Will you marry me and take me away from all this? Best of luck in all you do, and I hope we see you in many more of Kristen's videos.
A. First off, thanks for your support--it means a lot to me...but if I married you, would I still be able to do more movies?
Q. Hi, Antonio. Have you ever tasted your own cum? Did it taste good? May I try?
A. Well, I have shot in my face during a hot sex session and got it in my mouth--not too bad :-p
Q. Do you jack off? How many times per day?
A. That depends on how horny I am that day...sometimes I wait a few days so I can build it up then jack off 3-4 times in a day.
Q. Have you ever fucked a person that you know really well without a condom?
A. Only boyfriends that I've had for an extended period of time...I think safe sex can be very hot if you do it right...
Q. Have you ever had anal sex? If so did it hurt? Describe in detail your first anal sex experience, please.
A. Well, I have to be honest...the first time it HURT LIKE CRAZY. I was with a guy for 6 months and he grew quite persistent so I decided to try it; it was his birthday so I thought I would give in. I met him at the store where he was working, we went to the back of the store, got naked, and he began eating my ass to get me good and relaxed. He laid on his back and I straddled him. I slid down on his cock nice and slow...real short strokes at first until I reached the bottom. It took a while, but he went real easy on me. Aside from the pain, I did enjoy it... He was very hot!
Q. I wanted to know what kind of underwear do you wear? I also wanted to know what you wear to bed? (boxers, briefs, speedos, etc?)
A. Old Navy, Calvin Klein and D & G because you never know who you're gonna meet. To bed, I wear loose comfortable boxers--usually Old Navy.
Q. If you come to NYC, what would it take to have you sit on my face? Do you escort?
A. Well, I reeeeally would like to go to NYC, and I have escorted before. So both of those options might get a sitting session...By the way, how long is your tongue :-p
Q. This message is from Thailand. Do you know my country? Who is your favorite costar and why?
A. Well, I know of your country but never visited. I absolutely love Thai food and eat it at least once a week. My favorite costar is Ferran Griego, who fucked me in the movie Wet Dreams, Part 2. He was not only hot to look at but a real nice guy behind the scenes as well...
Q. What are some of your wildest sexual fantasies?
A. I think the best fantasies I had involved having sex in public places where anyone could walk up on you at any time. The adrenaline is a real high for me.
Q. Hi Antonio, let me tell you that you are so far one of the best good looking man I have ever seen on video. I want to congratulate you for letting guys like us have a chance to see a perfect guy like you perform a fantastic sex scene. Thanks for that. I am also an aerobics enthusiast, it's so much fun. I guess making a gay video is something really interesting and fun. How was the experience for you and why did you decided to be in a gay movie? Would you do it again?... I hope you do... Thanks. A fan from Venezuela.
A. Hello fan from Venezuela! Thank you for your support. I guess I've always been curious about doing a video and I finally got the opportunity to meet Kristen Bjorn and he asked if I was interested. I've always enjoyed his movies and knew that if I ever did do a movie it would have to be a movie of Kristen's caliber. The experience was fun but there's a lot of work involved in getting the scenes to the perfection that Kristen Bjorn projects in his videos. I think if Kristen gave me another opportunity to do another movie, I would give it much consideration.
Q. What is the wildest sexual experience you have ever had?
A. Having sex in the back of an open pickup truck while on the way to Key West. It was very exciting when we would pass other vehicles on the highway, as you can imagine!
Q. Hello from Canada. I see others have a lot of the questions that I wanted to ask. So I will ask the ones that no one has asked already. I have only seen the pics of you in your scene in Wet Dreams 2. I can only imagine what it will be like to seen it on video. The pics were HOT!! I'll get this part over with fast because you are probably sick of hearing it ... you are beautiful. You and the blond German, Hans Hintern (in WD1) are my favourites in this video duo. What do you think is your best body feature? Which part is still a "work in progress"?
A. First off, thank you for the compliment, I am very flattered. I think I'm my worst critic but I think my best feature is my legs. My work in progress would probably be my chest...
Q. Where are originally from and where do you live now?
A. I'm originally from South Miami Beach, but I live in central Florida now. I do go back to South Beach quite often to dance and to model...
Q. Did you find it hard to be sexed up for the 3-4 day shoots for your scene?
A. Well, I would be lying if I said it was easy to stay hard for so very long and cumming repeatedly...but I was really into the guys that I did the video with and they made it much easier for me. I think what helps also is that I'm a very sexual person who likes to fuck every day anyway...
Q. Are you in relationship now?
A. I'm in a relationship, but I am open to experience whatever fantasies come along...
Q. What is the hottest sex that you have had yet?
A. I would have to say it was a group sex party I went to last year. I was fucking a guy, and at the same time I was sucking on a big dick. A guy was eating my ass and licking my balls, I was fingering an ass with my left hand and fucking someone with a dildo using my right hand. The best part was when we ALL came at the same time...it was fucking hot!
Q. What is your type of guy in terms of physical features? Start from the head and go all the way down to his little toes.
A. Well, in general, I like guys who are in good physical condition. Blonds with blue eyes are usually at the top of my list. I look for a great smile, bubble ass, nice legs, little or no body hair, and they gotta like to be dominated... Oh, and I really like a guy with thick lips. That's just an ideal image... In reality, I like guys that are themselves, and who take care of themselves physically, no matter what color their hair, eyes or skin are.
Q. How did you get to be in this KB video? Did you know Kristen before the video? Had you seen his videos?
A. I have seen many of Kristen's videos and have always thought about being in videos. I met Kristen through a friend at a photo shoot. We started talking and the subject came up...the following year we shot Wet Dreams, Part 2...
Q. What are your hobbies? For example on a given weekend, what would be your schedule or plans?
A. I always like being active. On the weekends, I usually teach a couple aerobic or Kwon Do classes. I may go rollerblading, or if I'm really gonna relax, I'll go with a group of friends to Downtown Disney, see a movie and hang out at Pleasure Island.
Q. What do you do outside of this video work? I remember reading that you are an aerobics instructor. Is this your full-time job? That would explain the HOT body.
A. Yeah, I have been teaching aerobics for 11 years, and have been Tae Kwon Do and weight training classes for the past 3+ years...
Q. What is your idea of an intense orgasm?
A. Being so horny that I cum without touching myself...
Q. What is the best thing that ever happened to you? What is the worst thing?
A. I have a few best things, but I think it was walking my sister down the isle when she got married. The worst thing would have to be when my father passed away a couple years ago... We were very close.